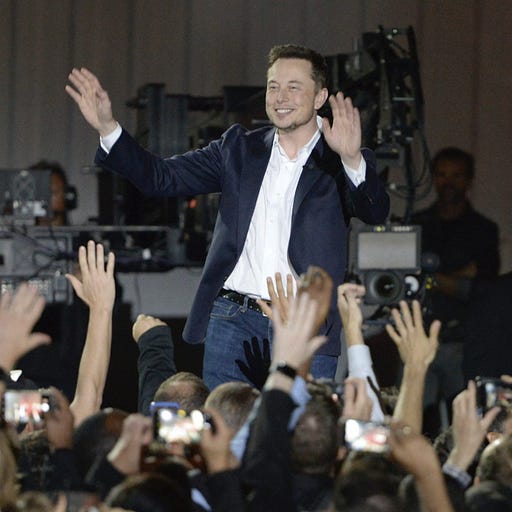 Oct 19, 2020 • 1M
Unlocking New Revenue, Feedback, and Referrals From Your Community of Clients: Why You Should Organize Events for Your Top-Paying Customers and How To Do It.
Practical insights & resources for entrepreneurs who are "world-class" at their craft. Check out motm.substack.com for more great stuff!
To My Fellow Entrepreneur,
I want to tell you about an untapped reservoir for new business, new referrals, and new insights into your Ideal Client.
Your community.
Your business has a community behind it regardless of whether or not you're actively investing in its growth and success.
Sadly, most entrepreneurs are so involved in the "day-to-day" operations of their companies that they neglect to reconnect with their past clients, ask for feedback, and create affinity with the brand by holding space for their fans in-person or online.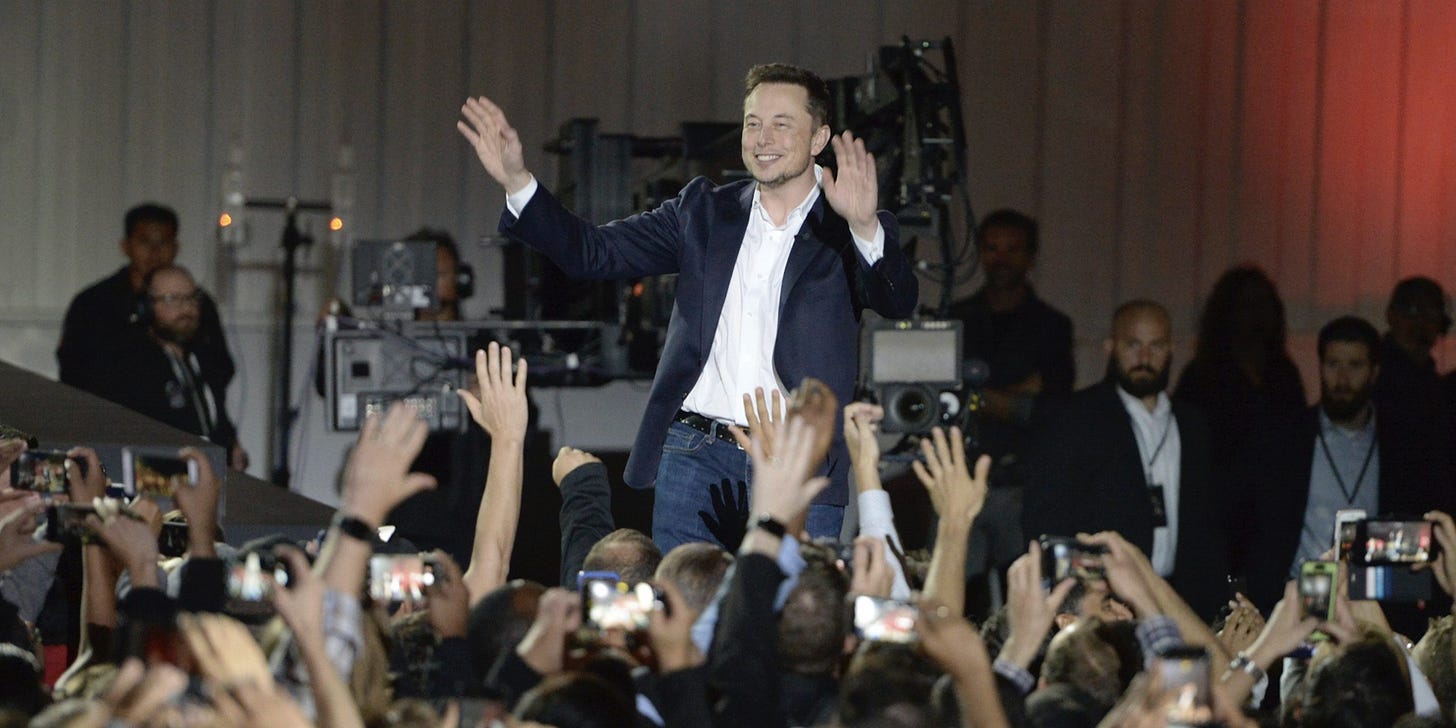 And so, inspired by a conversation I had a few weeks ago with a fellow business owner (who provides writing, editing, and publishing strategy services to authors), let's talk about how you can leverage community to generate more revenue and increase profitability.
---
Below, I'm going to share a step-by-step process with you for uniting your Ideal Client community and generating more business, referrals, and feedback for your company.
If you want even more, consider signing up for our premium newsletter so you can also read:
Click below to upgrade your membership and continue reading below…
---
Giving Back To Your Ideal Clients
When I spoke with the founder of the writing, editing, and publishing strategy firm mentioned above, she told me that one of her Q4 2020 or Q1 2021 goals was to do SOMETHING for her current and former clients to thank them for 11 years in business.
Historically, she has worked with over 300 clients, many of whom invested tens of thousands of dollars in her services and are respected individuals in their industries.
As I shared our business model for Meeting of the Minds with her, and explained how we host our in-person summits and virtual "Deep Dives" every month, suddenly the light bulb flickered on in my noggin.
With a client community of this size, if you run a similar type of business as this publishing firm, your own "Meeting of the Minds" could unlock massive opportunity while giving your ideal clients incredible value and fun.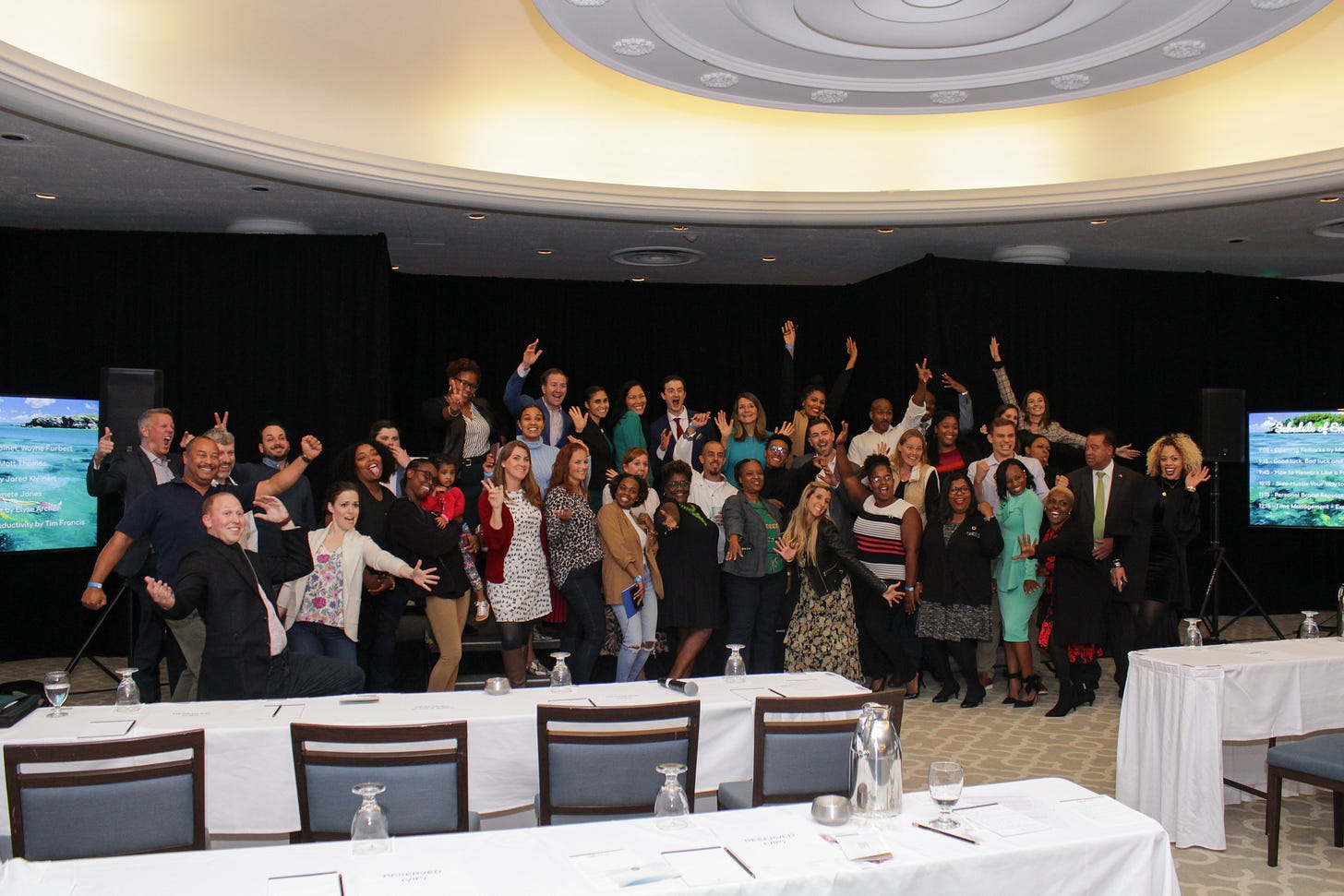 The Importance Of Community In Our Everyday Lives
Humans crave connection, and they find that through community.
There's the neighborhood or city in which you live.
There's the friends you make at work, whether it's colleagues or peers in your industry.
And then, you may find community through hobbies, shared interests, or maybe even your children one day (soccer moms, unite!).
Where we spend money also leads us to experience different types of community, and the companies that rally their clients around a shared set of values, vision for the future, and way of life tend to outperform other companies who exist only to make a quick buck.
Some call this branding (and you can think about the power of Apple, Nike, Starbucks, Tesla, Salesforce, Virgin, and other companies who've developed loyal followings).
Much of what makes those brands powerful is the sense of community that is developed by buying products/services made by those companies and subscribing to that way of life.
Because of my experience with Meeting of the Minds, and as a TED speaker hired occasionally to speak at corporate conferences or at industry events, I'd like to focus on tangible communities like Facebook Groups for clients of a certain company and experiences like Dreamforce, which is the annual customer appreciation event held by Salesforce (dedicated to their "community of Trailblazers" as per their website).
The 3 F's of Client Communities
These communities not only offer clients with a sense of belonging, but they also provide a forum for the 3 F's…
feedback (if they are invited to beta test new products/services),

fandom (if they can access fun parties and #humblebrag about your brand online), and…

fun (if they can celebrate "wins" with each other, pro-tips on how to make best use of your products/services, and other happenings in their lives).
This allows your Ideal Clients to receive value through unique content, networking opportunities, or Unique Shared Experiences as we've spoken about in the past.
Over time, Ideal Clients will develop a vested interest in your success, and this will lead to more referrals, higher Lifetime Value (as your clients come back to work with you again and again), and a better overall business (as you improve your products, services, customer support, marketing, etc with the help of feedback from your truest fans).
Here are some examples of the 3 F's…
FEEDBACK

Apple holds the Worldwide Developers Conference (WWDC) every year to provide "exciting reveals, inspiration, and new opportunities to continue creating the most innovative apps in the world" through a "State of the Union", "Engineering Sessions", "Developer Forums", and "Conversations" (all quotes are from their 2020 event page).
Ultimately, this forum provides Apple with intimate access to their most ideal clients, which are the companies and creators who are using thee App Store and overall platform to create new games, businesses, and technologies that will generate even more profit for Apple for decades to come.
By organizing this client community, Apple gets free beta testing and feedback from their Ideal Clients and can utilize that input to continue developing products, services, and experiences that Apple fans will not only love, but will line up around the block to pay for year-after-year.
FANDOM

While it's perhaps more decentralized than other examples, Tesla's community is one of the greatest examples of free marketing, referrals, and humble-bragging. Whenever a new car or technology is announced, massive events are held in-person and streamed to millions of people online, resulting in billions of dollars in pre-orders for cars like the Cyber Truck that won't be available for years. YouTubers have entire channels dedicated to Tesla news, and if you know someone who has a Tesla, they likely never shut up about their car or the valor of the company's mission.
To this day, Tesla has not paid for advertising because their Ideal Clients market the cars for them.
Tesla fans can easily seek one another out through car clubs, online forums, and content (YouTube, podcasts, email newsletters, etc) and those communities offer value to Tesla clients through those client-to-client connections plus a sense of identity.
FUN

Virgin Galactic has accepted registrations for their space tourism venture for years. At the steep price of $250,000, the 1000+ wealthy individuals who've already booked their tickets will one day take flight and enter the lower fringes of space.

To stay connected to these individuals until Virgin Galactic takes flight, the company has created the "Virgin Galactic Future Astronaut Community" which holds events around the globe to undoubtedly kite-surf with Richard Branson, check out the space crafts they will be flying in, wine and dine together, and tackle philanthropic efforts too. In fact, Virgin's Ideal Clients partnered with their nonprofit to create Galactic Unite to "inspire and support youth to pursue an education in STEM".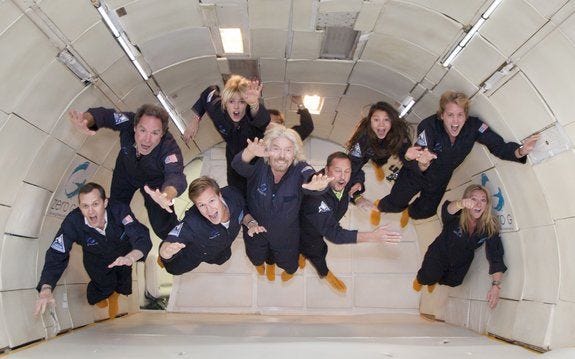 If you're intrigued thus far, here's how you and your business can benefit from creating your own Ideal Client Community.
Referrals (as you become top-of-mind again for current and former clients, they will likely recommend that others work with you. Not only that, but if you encourage them to +1 their friends to your online or in-person events, or invite their peers into your online form, then you'll have a steady stream of new leads).

Testimonials and Social Proof (if you prompt your clients to share their favorite aspects of your product/service, or ask them to share their fandom publicly, then you'll generate free press and assets such as written or recorded testimonials, case studies, and interviews you can use to promote your company elsewhere).

Repeat Business (for clients you haven't worked with in a while, you can use customer appreciation events and your client community to educate them on new product/service offerings that they might be interested in, turning old clients into new clients!)

Constructive Criticism (ask your clients what they'd like to see from you and your company in the future. Perhaps they will help you develop a new line of products or services which can unlock all new profit factories for your business. Your top-paying clients may also give you ideas for how to improve your marketing, customer support, or features of your current products/services. Listen to your Ideal Clients!!!).

Remind Yourself WHY You Are In Business (entrepreneurship is lonely. If you're always working "in" the business, it's hard to remember your mission or core values. Spending time with your ideal clients and creating communities for them to experience the fandom and fun you can generate for them will remind you of your purpose.)
How to Organize an Online Client Appreciation Event
"OK Jared…this sounds great, but HOW do I actually host an event for my clients."
Obviously, we can't connect people in-person right now.
Here's some of the ideas I shared in a post for premium subscribers related to how you can host better Zoom conferences, meetings, or webinars.
And, I'll tailor the following suggestions to hosting client appreciation events specifically…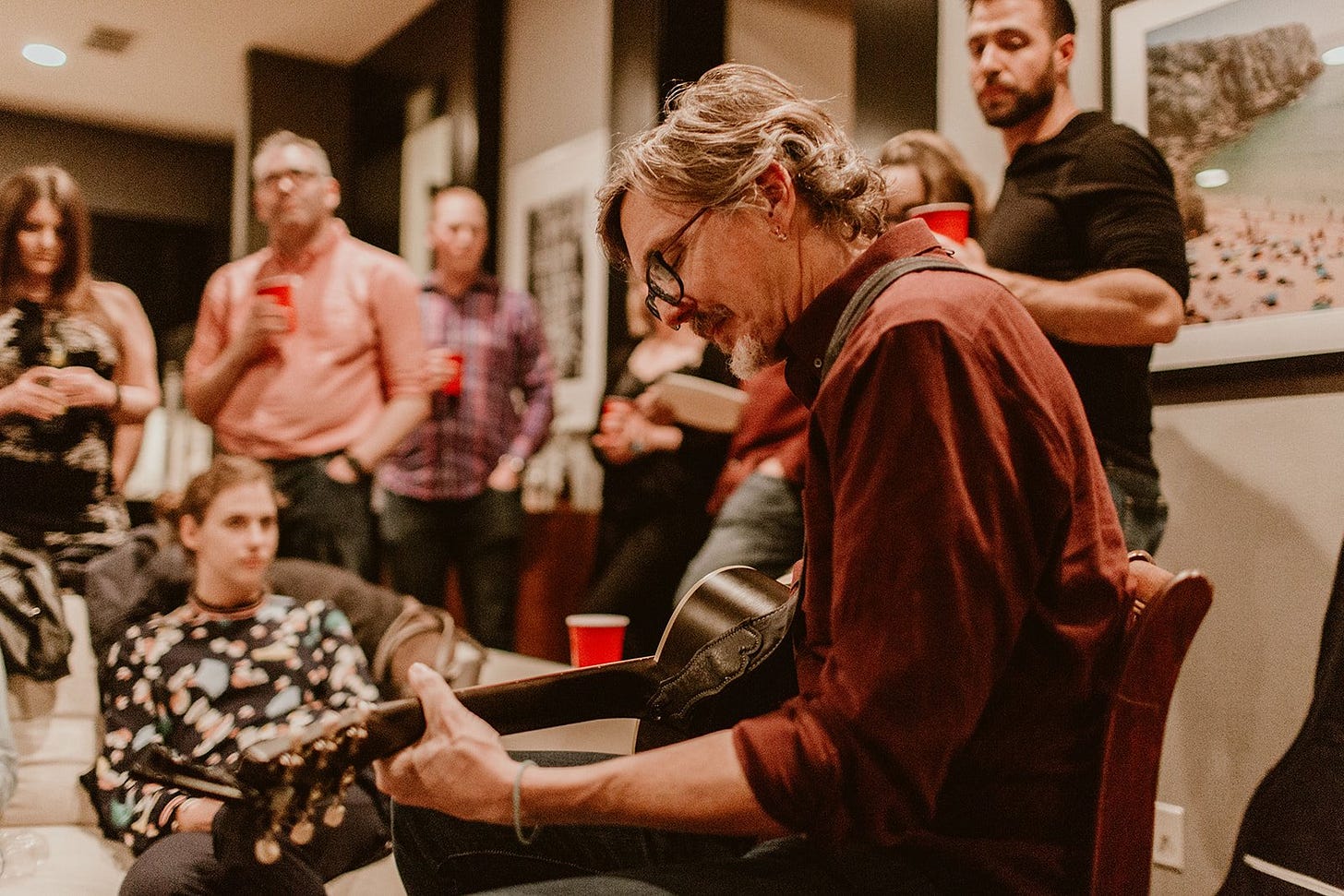 Last year, we hosted a "Tacos and Tequila" party in Austin, TX for friends, clients, and fellow speakers at a conference I was invited to speak at. Meeting of the Minds alumni Bill Small serenades the crowd with his guitar.
1) Determine the Length And Date(s) Of Your Event.
Much like a long-form podcast from Joe Rogan or Tim Ferriss (which could surpass three hours of talk time in certain cases), or the 29 minute read Medium article titled "Coronavirus: The Hammer and the Dance" which was so popular that many major television outlets referred to it explain why we needed to #FlattenTheCurve earlier in 2020, longer-form events provide more value and become more memorable than shorter webinars, virtual conferences, etc.
Therefore, when many companies are hosting hour-long webinars or other content-driven experiences, perhaps you may consider a day-long or even weekend-long experience that is more collaborative in nature.
In looking at the calendar, consider upcoming holidays as well as cultural or political events (i.e. don't host a client appreciation event during the week of the Presidential election, or during the weekend after Thanksgiving).
Also consider if you have any major product announcements coming up, and if you can time your client appreciation events right before those events to drum up excitement.
Don't be intimated by pulling off a longer event lasting multiple hours or days. You shouldn't necessarily feel compelled to speak or entertain the entire time. I strongly encourage NOT putting yourself or your company on a pedestal and instead making your Ideal Clients and community the star of the show. Here's how…
2) Curate GREAT people to join you.
In real estate, we know the three most important things are "location, location, location." In politics, especially during a Presidential election cycle, you've likely heard the phrase, "It's the economy, stupid!"
In the world of events, whether they are in-person or online, the people you curate to attend your meeting, conference, or webinar are easily THE most important ingredients to a successful gathering.
For a successful client appreciation event, focus first on your Ideal Clients.
These are the people that pay you the most and champion your work far-and-wide, even without being prompted by an event or community.
Next, you'll want to think about your pipeline of potential clients, as well as any partners, preferred vendors (i.e. people who help you provide stellar products/services to your Ideal Clients), and other clients who don't necessarily pay you lots of money, but provide great social proof and/or love your brand.
Finally, if you want to bring in speakers or entertainers, think about who your Ideal Clients would fawn over and desire to hear from.
For Apple and their WWDC, the designers and developers who attend those events may wish to hear from someone like Apple co-founder Steve Wozniak, or my friend John who actually turned down a corporate job offer from Apple at 18 years old after developing 40+ apps with millions of downloads during his teenage years as one of Apple's first 1000 mobile app developers.
3) If You Use Zoom Or A Similar Technology, Make Sure Everyone Turns Their Video Camera On!
Set the expectation with your attendees that they should turn their video ON during your meeting to encourage deep, meaningful connection.
In-person meetings are more effective than calls, and the same is true with virtual interactions.
Invite this behavior by freeing people of judgement on their backgrounds and dress code as well. We like to say, "dress as you'd like to be known."
Personally, I'd prefer less clients to join us for a client appreciation or community event if that means those who DO attend will be fully engaged. If someone doesn't have their video camera on, they may be doing work on another tab or, worse, folding laundry in the background and barely paying attention.
That leads to a sub-par experience, and then this exercise in community for the benefit of your Ideal Clients becomes much less memorable and valuable.
4) Establish Trust and Intimacy.
Once you actually start your event, I'd suggest starting your day with some thought-provoking, really-get-to-know-ya icebreakers with 2 or 3 person breakout rooms for five minutes per question prompt. 
For our quarterly in-person summits at Meeting of the Minds, we always start the first night with something casual, where work-talk is prohibited, and use the intimate dinners, improv shows, wine tastings, evening cruises, and other shenanigans as a way to ease everyone into our mastermind experience.
To the best of your ability, recreate this via Zoom!
Plus, your clients can start to connect with one another, and if you're curated great attendees from your network, then this will be one of the highlights of your event for all the reasons we talked about before (i.e. the 3 F's of Client Communities).
5) Take A Deep Breath.
Incorporate movement, guided meditations, and stretch breaks into your programming.
Get people out of their chairs, engaged with you and their fellow event attendees instead of ambient distractions, and play with state changes.
We want our attendees to laugh before we get serious, take a few moments to reset and refocus before listening to an important presentation, and stretch when they seem to be reaching Zoom fatigue or start getting antsy.
(If you haven't watched my interview with our Health and Wellness "Expert-in-Residence" Shannan Slevin, you can get a taste of the desk stretches, mindfulness exercises, and practices we incorporate in our events by clicking here or watching the video embedded below.)
6) If You DO Bring In Speakers, Ask Them Better Questions or Only Bring In People Who Dazzle.
A couple months ago, I was invited to a webinar with someone who co-founded an $8B, name-brand company and had many smaller successes before that as well.
On paper, this guy seemed fascinating, and yet...I left the Zoom webinar after about 10 minutes because his presentation was SO BORING.
In fairness, it was not entirely his fault.
The host of the webinar didn't ask thought-provoking questions, and this founder isn't likely trained as a professional speaker.
For you, if you're bringing in outside speakers to teach or entertain your Ideal Clients, it's YOUR job to ensure the audience stays engaged and/or you must only bring in speakers who can warm up the most Zoomed-out and brain-fried of crowds.
For our Q3 summit, we brought in celebrity drummer and author Mark Schulman to speak to our group. You can see from his sizzle reel below how entertaining and fun he is as a speaker, and that translates to how our client community will feel about myself and Meeting of the Minds.
7) Maximize the "Breakout Rooms" Feature.
One of the most underrated features is organizing Breakout Rooms via Zoom, which allow you to nudge attendees into icebreakers (see #4 above), have multiple content tracks, facilitate interactive roundtable conversations, etc.
You can allow Zoom to automatically randomize and assign people to rooms, or with a few extra clicks, you can manually dictate where each attendee goes.
Unlike in-person events, you don't need to wrangle sheep to get people back into the main group. You can press a button and everyone gets sucked back into the main Zoom conference room allowing you to stay on-time with your agenda.
This is a GAME CHANGER when it comes to community engagement.
8) Schedule Ample Breaks.
If you take our advice and host longer events (see #1 above), you'll need to include breaks every hour or so for restroom use, coffee and food, stretching (see #5 above), and preservation of your own energy as a host.
Keep time zone differences in mind if you're working with clients from across the United States or between countries as we do.
Need help? Let me know…
9) Take Your (Tech) Game To The Next Level.
For less than $500, you can get a new webcam, ring light, Yeti microphone, and access to tools which will make hosting exceptional online events easy.
Other tools to consider include:
the pro version of Zoom (which gives you unlimited meeting time, up to 1000 attendees, 1GB of recording storage space, and more) 

Krisp.ai (which mutes background noise in real-time such as landscapers, kids, dogs, or air conditioning machines), and

otter.ai (which transcribes meeting notes for valuable transcriptions).
10) Send Reminder Emails Ahead Of Your Event.
We are ALL distracted with other less-than-awesome Zoom gatherings hosted by not as sexy-looking people who aren't subscribed to my private email newsletter (this is SARCASM by the way, if you couldn't tell, lol)...normal work, and potentially childcare, home repair, or something else that's typically not part of their office environment.
Therefore, you should remind people of the agenda, important information, Zoom link, rules of engagement, and more multiple times before your conference, meeting, or webinar begins.
I've also seen others sending "are you still there?" emails if you're working with 100+ people and can't easily track everyone, and if your event lasts multiple days, then recap emails at the end of a full day (or to start the next day) are also a great idea.
11) Follow-Up!
The absolute WORST feeling is hitting it off with someone at a conference or an event, getting offered a valuable intro or resource, and/or thinking you've landed an ongoing dialogue with the perfect prospect...
...only to never hear from them again!
Meeting of the Minds never wants this to happen to our clients, and so we provide "facilitated follow-ups" to not only share contact info with all event attendees, but then actually make intros based on how people have offered to help one another (or where we feel they can help one another).
This is where a Facebook Group or ongoing client community platform comes into play. Consider how you will transition attendees of an in-person or virtual client appreciation event into an ongoing client community.
Not only does this provide more value to your clients, but you'll develop a forum in which you can consistently announce new products/services, ask for feedback from your fans, request testimonials, share exciting news, and invite your clients to future client appreciation events.
12) Have Fun!
We once had an American Ninja Warrior as our co-host, who is also a stand-up comedian and cracked a few jokes throughout an event to keep things light.
We've also had a Broadway actress/singer who owns a vocal training company lead an interactive "Executive Karaoke" session where she performed a few songs and trained our clients on how to access our voices to speak more powerfully and eloquently.
And at the same event, right after one of our amazing keynote speakers wrapped up their Q&A, we beamed in friendly farm animals such as Shelley the Sheep below.
(I'd highly recommend hiring Goat-2-Meeting for your next online event!)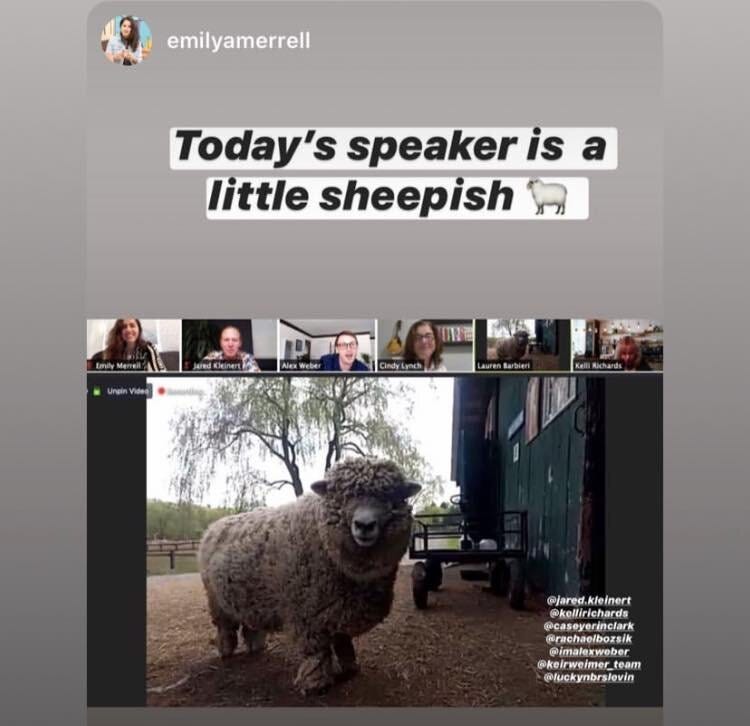 We've also utilized Airbnb Online Experiences, invited our clients to group Zoom workouts, and even tried Simon Says style dance parties where one participant would give everyone else a dance move to follow, then the next person would share their move for us to try out, etc.
To wrap things up, I'd like to offer you some time on Zoom or the phone if you'd like to host a client appreciation event for your community, but still don't know how exactly you'd execute the event - even with the "How-To's" above.

Email me anytime at jaredkleinert@gmail.com.
---
A Successful Business…
To me, success is not only generating a healthy profit from my company, but also building life-long friendships with my clients, peers, and preferred vendors.
Life is too short NOT to enjoy the people you work with, and so above-and-beyond all the benefits we talked about above for why you should invest in creating a client community for your business, your personal enjoyment should be at the top of the list.
What have you done to build client communities for your company in the past? What's worked? What has not worked? Are you going to take this advice and plan a Client Appreciation Event in coming months?
Let me know!
-Jared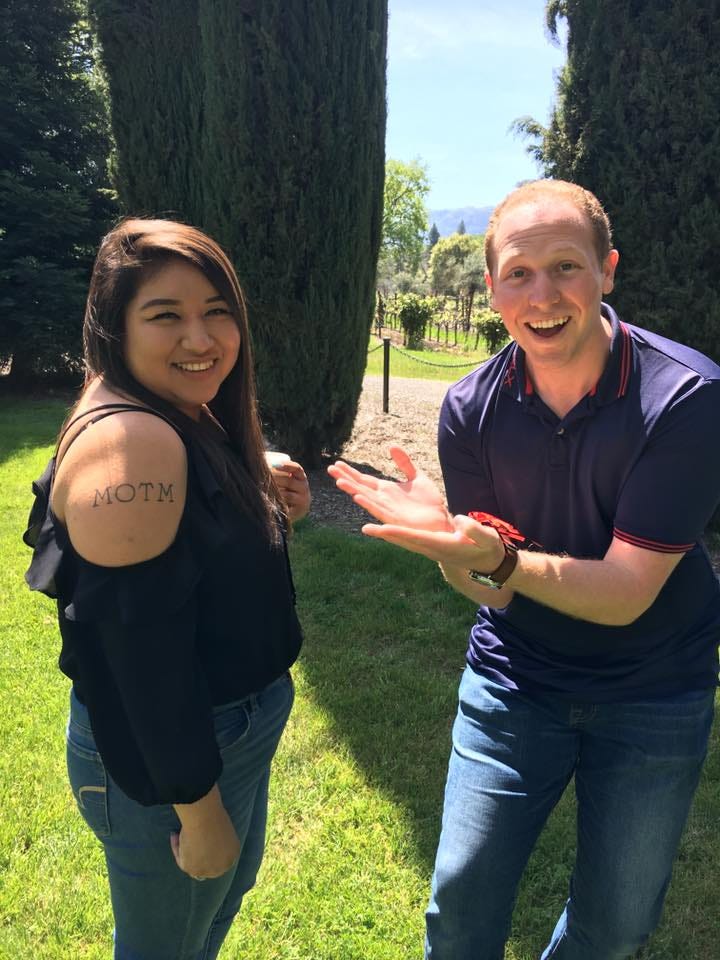 P.S. - this is a free weekly edition of our newsletter. Each week, we cover practical insights and resources on marketing, sales, personal branding, community-building, and other building blocks for scaling a profitable bootstrapped business.
If you're not a paid subscriber, here's what you're missing…
The Ultimate Guide to Starting A High Margin Launchpad Business - Without Any Upfront Capital or Pre-Existing Clients
And dozens of other "locked" emails over the last year that are available only to paying, premium subscribers.
To receive ALL our content, including our most valuable emails each Friday, subscribe by clicking the button below👇.
---
Jared Kleinert is the founder of Meeting of the Minds (motm.co), as well as a TED speaker, 2x award-winning author, and USA Today's "Most Connected Millennial".
Meeting of the Minds curates "super-connectors" and subject matter experts as invite-only attendees to 3 day summits in places like Napa Valley, Bermuda, and elsewhere, as well as "deep dives" such as this Marketing and Biz Dev strategy & implementation workshop. Members of the MOTM network include CEOs of 7, 8, and 9-figure businesses, creators of globally-recognized brands and social movements, New York Times bestselling authors, founders of pre-IPO tech unicorns, c-suite execs from Fortune 500 companies, and others.
Jared's career began at 15 years old when he started his first company, and took off at 16 while working as the first intern, and then one of the first 10 employees, for an enterprise SaaS company called 15Five, which today has raised over $40M and has almost 2000 forward-thinking companies as monthly recurring clients.
Later, Jared would become a delegate to President Obama's 2013 Global Entrepreneurship Summit in Malaysia, write multiple books including the "#1 Entrepreneurship Book of 2015", and speak at TED@IBM the day before he turned 20.
As a highly-sought after keynote speaker and consultant, Jared's clients range from organizations like Facebook, Samsung, Bacardi, Estee Lauder, IBM, Cornell, Berkeley, AdAge, and the National Speakers Association. His insights on entrepreneurship, networking, marketing, and business development have been featured in Forbes, TIME, Harvard Business Review, Fortune, NPR, Entrepreneur, Mashable, Fox Business and more.
Don't forget to share! :)