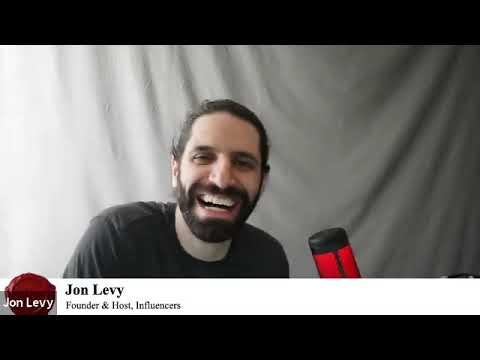 Jun 4, 2021 • 39M
"You're Invited" with Wall Street Journal Bestselling Author Jon Levy
Learn About "The Art and Science of Cultivating Influence"
Practical insights & resources for entrepreneurs who are "world-class" at their craft. Check out motm.substack.com for more great stuff!
My interviewee today is one of the few people more "connected" than me! 😂
Jon Levy, now a Wall Street Journal bestselling author, is the founder of The Influencers Dinner, as well as The Influencers Salon, where Olympians, Nobel winners, serial entrepreneurs, comedians, Grammy award-winners, and others mix and mingle.
I've been to a few salons myself, and I've always walked away with amazing people.
We cover Jon's latest book You're Invited: The Art and Science of Cultivating Influence in this conversation and share some of the highlights from Jon's research.
Admittedly, I'm fortunate enough to receive a lot of books in advance of their publication as a traditionally-published author, and while I'm ashamed to admit I don't read most of the preview copies I'm sent, I did read You're Invited cover-to-cover back in March and learned a LOT.
You can get a lot of value from our interview and learn more about Jon, but check out his new book as well if you enjoy this conversation! You should also go get Jon's first book called The 2 AM Principle: Discover the Science of Adventure.
Alrighty….let's jump into it 😎.
---
👇 Click below to watch our interview with Jon Levy 👇
🚀 You can also listen to the audio only at the top of this article. 🚀
---
Jon Levy is a behavioral scientist best known for his work in influence, human connection, and decision-making. He specializes in applying the latest research to transform the ways companies approach marketing, sales, consumer engagement, and culture. His clients range from Fortune 500 brands to startups.
More than a decade ago, Jon founded The Influencers Dinner, a secret dining experience for industry leaders, from Nobel laureates, Olympians, celebrities, and executives to artists, musicians, and the Grammy-winning voice of the bark from "Who Let the Dogs Out." Guests cook dinner together but can't discuss their careers or give their last names. Once seated to eat, they reveal who they are. Over time, these dinners developed into a community. With thousands of members, The Influencers is the largest community of its type worldwide.
In his free time, Jon works on outrageous projects, among them spending a year traveling to all seven continents and attending the world's greatest events (Grand Prix, Art Basel, Burning Man, Running of the Bulls, etc.), barely surviving to tell the tale. These adventures were chronicled in his first book, The 2 AM Principle: Discover the Science of Adventure.
---
This interview is part of our new "Super-Connector Secrets" series where we introduce you to diverse entrepreneurs and subject matter experts.

Reach out and connect with these folks, and if you'd like to hear more of these conversations while also learning my top tips on relationship and community-building, order a copy of How To Build A World Class Network In Record Time.
---
Jared Kleinert is the founder of Meeting of the Minds (motm.co), as well as a TED speaker, 2x award-winning author, and USA Today's "Most Connected Millennial".
Meeting of the Minds curates "super-connectors" and subject matter experts as invite-only attendees to 3 day summits in places like Napa Valley, Bermuda, and elsewhere, as well as "deep dives" such as this Marketing and Biz Dev strategy & implementation workshop. Members of the MOTM network include CEOs of 7, 8, and 9-figure businesses, creators of globally-recognized brands and social movements, New York Times bestselling authors, founders of pre-IPO tech unicorns, c-suite execs from Fortune 500 companies, and others.
Jared's career began at 15 years old when he started his first company, and took off at 16 while working as the first intern, and then one of the first 10 employees, for an enterprise SaaS company called 15Five, which today has raised over $40M and has almost 2000 forward-thinking companies as monthly recurring clients.
Later, Jared would become a delegate to President Obama's 2013 Global Entrepreneurship Summit in Malaysia, write multiple books including the "#1 Entrepreneurship Book of 2015", and speak at TED@IBM the day before he turned 20. 
As a highly-sought after keynote speaker and consultant, Jared's clients range from organizations like Facebook, Samsung, Bacardi, Estee Lauder, IBM, Cornell, Berkeley, AdAge, and the National Speakers Association. His insights on entrepreneurship, networking, marketing, and business development have been featured in Forbes, TIME, Harvard Business Review, Fortune, NPR, Entrepreneur, Mashable, Fox Business and more.
Don't forget to share! :)