Jul 14, 2020 • 8M
What Are You Doing Now That You Will CONTINUE Doing After The Pandemic? (A Special Message About This Weekly Email Newsletter)
Practical insights & resources for entrepreneurs who are "world-class" at their craft. Check out motm.substack.com for more great stuff!
My fellow entrepreneur,
Have you ever had that excited, yet nervous feeling when you're about to launch a new product or service that you've worked REALLY hard on (and yet you don't know what the reaction will be like when you go "live")?
I'm feeling that way right now, because I've been working my ass off for the last ~2 years to build something valuable and meaningful for you with this weekly newsletter…
Which is why I'm VERY excited to share with you that we are now offering a premium content experience.
We hope you'll join us on this exciting new journey.
If you would like to gain access to ALL the valuable resources, opportunities, and interviews we're creating, become a paid member of Meeting of the Minds today for only $12/mo or $120/year (which comes out to only $2.31 per week, which is less than a cup of Starbucks coffee!).
---
Announcing: Our Premium Membership Options
If you take no action (i.e. do nothing) after getting today's email, no worries! You'll continue receiving 1x weekly emails from me with practical insights on marketing, biz dev, networking, sales, personal branding, thought leadership, and more…
If you join us as we transition to offering premium memberships, you'll get a lot more. Not only will you continue receiving my Tuesday emails, but you'll also get:
2x+ Weekly Emails - A second email from me later in the week (with audio of me reading the email for you in case you wish to listen on-the-go or at 2x speed) with actionable templates, resources, and insights that you can use to generate more predictable revenue and increase the profitability of your business.

Full Access to the Meeting of the Minds Content Archive - Knowledge is power, as is who you know, so as we transition to premium posts I'll be "locking" some of our historic content behind a paywall (and uploading more resources that aren't yet on Substack) which you will only have access to if you're a premium member.

"Early Bird" Rates on Meeting of the Minds Experiences - When you become a premium member of the newsletter, you also receive $199 off any "Deep Dives" we host each month, plus first dibs and special rates on our future offers.

Access to Live Zoom AMAs and (eventually) Exclusive Dinners & Social Outings In Select Cities - For now, you'll be invited to a couple of member-only conversations with serial entrepreneurs and diverse subject matter experts from my network. After the pandemic, if I'm traveling to your city, you'll get access to dinners, cocktail hours, and other fun stuff I organize for friends and clients.

So Much More!!! Going "premium" is the first step in a hopefully decades-long effort to build our tribe and help you become a titan in your industry. We want to support you and invest in your growth however we can, so when you go premium, let me know how else we can offer you value, and we'll continue giving you greater benefits in the future.
Your subscription becomes increasingly valuable over time as we grow our content library, listen to your feedback, and give you access to exclusive opportunities.
Investing in yourself is a total no-brainer. As Abraham Lincoln said, "Whatever you are, be a good one." We'll help you become better and more connected every week.
If nothing else, consider this an investment in our friendship :).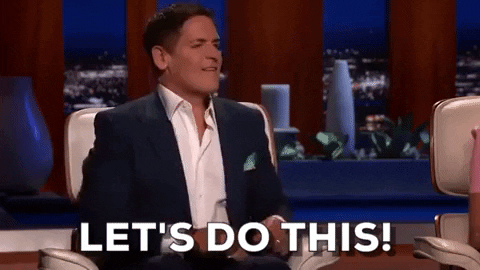 ---
Your Network Is The Most Important Asset You Own As An Entrepreneur…
Because of this, I'm working hard to introduce you to some of the brightest "Minds" from our community (and the practical insights they have to share) with you…
Our premium newsletter will feature MORE of the conversations, takeaways, and "lessons learned" we've been fortunate enough to hear from a range of NYT bestselling authors, former Fortune 500 c-suite execs, serial 7+ figure business owners, Forbes 30 Under 30 honorees, world champion athletes, and others I've invited to contribute to this newsletter.
Plus, I'll continue sharing my own "battle-tested" ideas as a TED speaker, serial entrepreneur, award-winning author, and USA Today's "Most Connected Millennial" who has been able to start a couple of successful small businesses (from a marketing consulting firm working with top thought leaders and record-setting crowdfunding campaigns to Meeting of the Minds).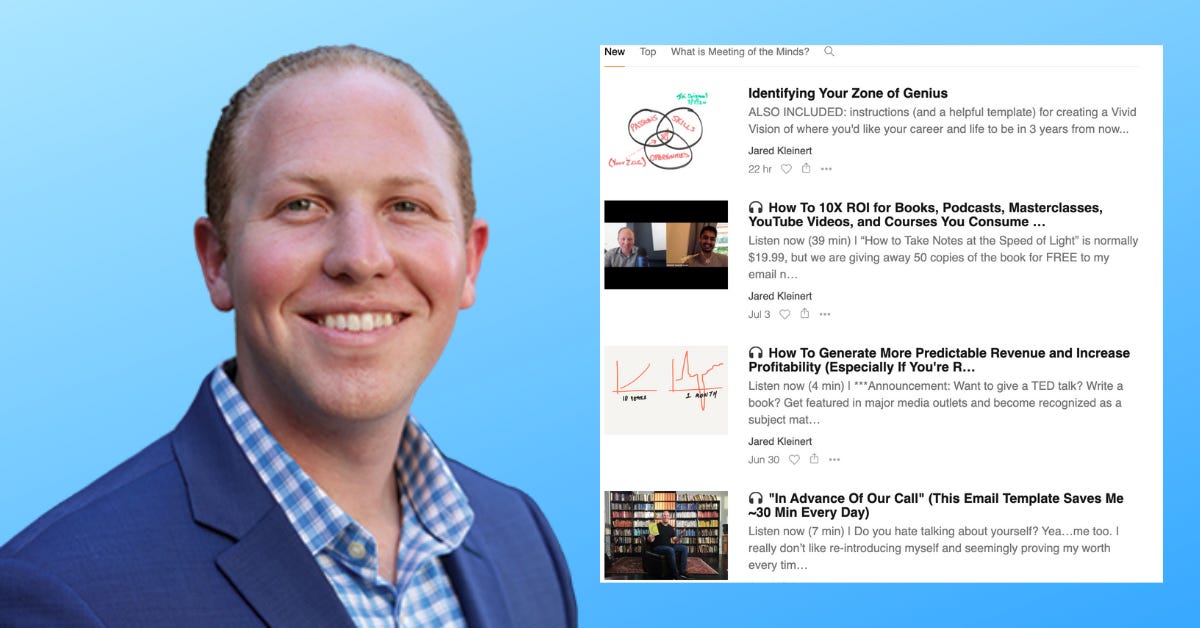 For the last 2 years, I've shared at least 1 weekly email on everything from how I scored an interview with Larry King to cold email templates you could use to generate more sales or raise money for your company.
And in the past, I've also appeared on countless podcasts, contributed to Forbes, TIME, Addicted2Success, and other media outlets, and had both a YouTube show and podcast with celebrity guests, but today…
All of my best content is delivered with care to you and other newsletter subscribers.
If you want to join this journey, consider subscribing to one of our NEW premium membership options below.
And if you wish to continue as a free subscriber (you will only receive our Tuesday emails from here on out), you can still support us by:
Sharing this newsletter with a friend (click "Share" below).

Replying and letting me know what content has been most valuable to you.

Continuing to read and enjoy these emails (truly, thank you for being here!).
---
What Will You Continue Working On Post Pandemic?
While I've been writing to a private, invite-only email newsletter for at least two years, only recently did I bring our content over to Substack and begin growing our audience.
This is one of core areas of our business where I've invested a lot of time and love in the last four months. Thanks to the pandemic, this will be an innovation of ours that we will carry into the future and build upon long after we find a vaccine.
What Are You Doing Now That You Will CONTINUE Doing After The Pandemic?
There's plenty of room for innovation right now, and perhaps you are building habits at home that you want to build upon in the years and decades to come.
For us, building up our newsletter is one big project I'll be working on longggg after the pandemic to give you as much value as possible. I'm thrilled to offer these premium memberships, and sincerely hope you join us.
Here's some other things I'll take away from these uncertain times…
My fiancee and I have gone for long walks around a nice public park in town, giving us time to reconnect when we're both crazy busy building our empires. As we start a family and begin traveling again eventually, we definitely want to continue doing at least once per week.

My personal savings rate has doubled in the last four months!

I've started working with Meeting of the Minds alumni and world-renowned architect Peter Lombardi on a "stealth" project which could very well change the future of home-building and resilient community creation. More to come :).

Meeting of the Minds has added Zoom-based experiences that we will host monthly even after we're able to convene our quarterly, in-person summits again.

After years of one-off philanthropic efforts to support organizations like charity: water, Pencils of Promise, and Make-A-Wish Foundation alongside various local causes in Atlanta, we've now started monthly Volunteer With Entrepreneurs campaigns and I intend to grow our following and charitable footprint over the next few years. Last month, we collectively donated $1K+ in gifts and supplies to the Partnership Against Domestic Violence. This month, we're supporting an organization called The Next 50 :).
At home and work, there's plenty of positives we can carry with us into the future.
I hope you find something to add to your business and/or personal life that is a true game-changer. You'll look back on 2020 with sincere gratitude, despite how difficult and absolutely insane this year has been so far…
---
Once Again, THANK YOU!!!
A quick email reply, or the knowledge that you've used some of the emails I've shared in the past to generate more revenue for your business, raise money from prominent investors, make a small change in how you work, etc…
That ALWAYS makes my day, and it's one of the biggest reasons I invest so much time and energy in these write-ups for you.
This is only the beginning of Meeting of the Minds, and of this newsletter, and I hope I've earned your trust after months or years of free content (depending on how long you've been a subscriber) if you're considering going premium with us. 🚀🚀🚀
---
Jared Kleinert is the founder of Meeting of the Minds (motm.co), as well as a TED speaker, 2x award-winning author, and USA Today's "Most Connected Millennial".
Meeting of the Minds curates "super-connectors" and subject matter experts as invite-only attendees to 3 day summits in places like Napa Valley, Bermuda, and elsewhere, as well as "deep dives" such as this Marketing and Biz Dev strategy & implementation workshop. Members of the MOTM network include CEOs of 7, 8, and 9-figure businesses, creators of globally-recognized brands and social movements, New York Times bestselling authors, founders of pre-IPO tech unicorns, c-suite execs from Fortune 500 companies, and others.
Jared's career began at 15 years old when he started his first company, and took off at 16 while working as the first intern, and then one of the first 10 employees, for an enterprise SaaS company called 15Five, which today has raised over $40M and has almost 2000 forward-thinking companies as monthly recurring clients.
Later, Jared would become a delegate to President Obama's 2013 Global Entrepreneurship Summit in Malaysia, write multiple books including the "#1 Entrepreneurship Book of 2015", and speak at TED@IBM the day before he turned 20. 
As a highly-sought after keynote speaker and consultant, Jared's clients range from organizations like Facebook, Samsung, Bacardi, Estee Lauder, IBM, Cornell, Berkeley, AdAge, and the National Speakers Association. His insights on entrepreneurship, networking, marketing, and business development have been featured in Forbes, TIME, Harvard Business Review, Fortune, NPR, Entrepreneur, Mashable, Fox Business and more.
Don't forget to subscribe to my weekly email newsletter!