Aug 25, 2020 • 4M
If You're Not Doing THIS In Your Email Signature, You Are Leaving Money On The Table Every Time You Hit "Send"
Practical insights & resources for entrepreneurs who are "world-class" at their craft. Check out motm.substack.com for more great stuff!
In 2016, I was fortunate to keynote at a high-end mastermind event hosted by 9-time New York Times bestselling author Neil Strauss.
One of my fellow speakers was a popular blogger and entrepreneur whose work I'd followed for years before meeting him at this event.
At the end of this weekend in New Orleans, the remaining speakers and attendees gathered in a big circle to share their #1 takeaways from the weekend.
From everything this blogger shared, heard, and discussed after being with over one hundred multi-millionaire business owners and a creative genius in Neil himself, the main takeaway for the blogger was one tiny suggestion I made during my 90 minute keynote and Q&A (which was quite humbling).
As we became friends thereafter, I saw this bloggerpreneur utilize the ideas I'm about to share with you now, and I know he's earned additional income from doing this as I have, allowing him to scale his business while living the good life!
Here's what you need to do…
---
Include "social proof" and money-making passive links in your email signature.
That's it!!!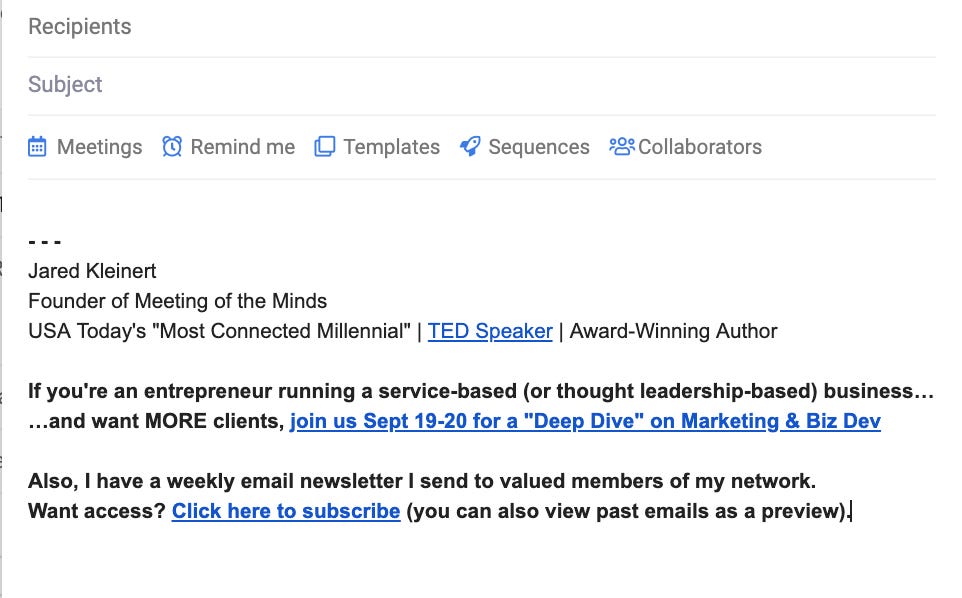 ---
I've included an example above to show you what my current email signature includes.
I start with the obvious - my name, title, and company.
But then, I share three (3) distinct and intrigue-inducing bits of "social proof" (which for you can be press features, awards, short testimonials from famous people, your current standing on a Forbes 30 Under 30 or Inc 5000 list, etc).
I follow this with two "calls-to-action" for my Ideal Clients.
Sign up for my upcoming "Deep Dive" if you're an entrepreneur with a certain type of business (i.e. a service-based or thought leadership-based company) and have a specific challenge (i.e. wanting more clients)…
…or subscribe to my weekly email newsletter if you want access to the same information I send to valued members of my network.
The combination of social proof and "passive" links (because they are sent to everyone, and digitally stamped at the end of every email I send) allow me to showcase specific ways that our Ideal Clients can invest in working with us and/or learn more about what we offer.
It's difficult to track how much revenue we've generated over the last 4+ years from the "marketing" and rapport-building that takes place in my email signature, but I'd guess that we've earned at least an extra $1000 on average per month because of this set-up.
In fact, this week I teed up a virtual speaking engagement worth thousands of dollars because I sent someone an email, they clicked on one of the links in my email signature to view my TED talk, and told their boss to hire me!
I've booked $15K keynotes in the past in this same exact fashion, and I've also picked up countless email newsletter subscribers and applications to Meeting of the Minds experiences from the calls-to-action I include in my email signature.
Those, in turn, lead to new Ideal Clients and new revenue generated for our company.
Who says you need to hit Inbox Zero! ;)
Now try this out for yourself!
If you want to send me a draft of your updated email signature, reply to this email or comment below if you're viewing this write-up online.
Otherwise, enjoy making more money every time you hit send.
-Jared
---
Jared Kleinert is the founder of Meeting of the Minds (motm.co), as well as a TED speaker, 2x award-winning author, and USA Today's "Most Connected Millennial".
Meeting of the Minds curates "super-connectors" and subject matter experts as invite-only attendees to 3 day summits in places like Napa Valley, Bermuda, and elsewhere, as well as "deep dives" such as this Marketing and Biz Dev strategy & implementation workshop. Members of the MOTM network include CEOs of 7, 8, and 9-figure businesses, creators of globally-recognized brands and social movements, New York Times bestselling authors, founders of pre-IPO tech unicorns, c-suite execs from Fortune 500 companies, and others.
Jared's career began at 15 years old when he started his first company, and took off at 16 while working as the first intern, and then one of the first 10 employees, for an enterprise SaaS company called 15Five, which today has raised over $40M and has almost 2000 forward-thinking companies as monthly recurring clients.
Later, Jared would become a delegate to President Obama's 2013 Global Entrepreneurship Summit in Malaysia, write multiple books including the "#1 Entrepreneurship Book of 2015", and speak at TED@IBM the day before he turned 20. 
As a highly-sought after keynote speaker and consultant, Jared's clients range from organizations like Facebook, Samsung, Bacardi, Estee Lauder, IBM, Cornell, Berkeley, AdAge, and the National Speakers Association. His insights on entrepreneurship, networking, marketing, and business development have been featured in Forbes, TIME, Harvard Business Review, Fortune, NPR, Entrepreneur, Mashable, Fox Business and more.
Don't forget to share! :)