You've likely heard countless stories of entrepreneurs looking for asymmetrical risk/reward in their investments and decision-making, right? 
If you're nodding your head YES, you might also be thinking…
But what does this look like in every day life? 
Now, I'm going to talk about face masks for a second, but hear me out. 
This is NOT intended to be political or opinionated whatsoever.
In my view, not wearing a mask, attending a party, traveling on planes, or seeing elderly family members right now poses the wrong risk parameters.
These are all activities where the benefits (i.e. a little extra comfort without a mask on your face, seeing friends or meeting new people, giving grandma a hug when you can wait a few more months to travel) aren't that great compared to the risks (i.e. getting yourself sick, strangers, or loved ones sick being the primary risk, but also social isolation by making others around you uncomfortable, losing days or weeks of productivity if you or someone in your family gets sick, etc). 
I wrote a majority of this on a plane headed to Florida a few days ago (I'm back in Atlanta now), but the only reason I made the trip was to see my brother who is undergoing a major surgery in two weeks. 
Even then, I limited my exposure to risk wherever possible. 
I picked my seat on the plane strategically by a window so there's only people sitting behind, in front of, and to the left of me (as opposed to 360 degree exposure from an aisle seat).
I boarded the plane last so I wouldn't have to wait in lines that likely wouldn't be socially distanced entering the plane. And, I even used the restroom in the Delta lounge instead of the public restrooms as less people enter the private area. 
Let's talk about some things you can do in your business that DO provide the asymmetrical risk/reward we're looking for. 
Building your personal brand
Your "risk" is investing a few hours each week writing newsletters like this, appearing on podcasts, pitching members of the media, responding to social media, or booking yourself for speaking engagements. 
While this time might be better spent in sales, marketing, product/service development, or accounting, the "reward" over time could be an exponentially easier biz dev experience as you become well-known in your industry and people actively seek you (meaning you can spend less time on marketing and sales).
Your personal brand can also benefit you across multiple ventures. In the event your current business doesn't work, you've built an asset you can leverage in the future for your next big idea. 
Building a world-class network
Same idea here. Invest some time, money, and energy establishing and deepening meaningful relationships with influential people, and your rewards could be exponential. Your network will provide you with unforeseen opportunities, emotional support when times get tough, feedback and leads on information sources that will allow you to more rapidly self-educate, etc. 
If given the choice between an extra hour of work or spending that time networking, I'll almost always choose the second option because it provides the potential for positive payoff over decades of my career, whereas the emails I'd answer or landing pages I'm typing up in that extra hour of work can most likely wait until the next day.
Securing capital and lines of credit 
Generally, it's a good idea to have more "cash in bank" than what's needed to get through your next payroll cycle or two.
Additionally, opening lines of credit through your bank, credit cards, or online lenders like Kabbage is well worth your time in the event you need to tap into those funds during emergencies like we experienced in March. 
There is a small risk of inviting yourself or others on your team to misuse funds, overcharge credit cards, or spend more than you would if you were practicing complete frugality, but the reward is peace of mind when it comes to your survival during the worst of times.
On a more positive note, if you find a marketing campaign or opportunity that is promising, you'll now have the ability to invest more aggressively than if you didn't have extra cash or credit. 
Talking to your customers 
Your risks are, like the first 3 ideas above, the opportunity cost of spending time conversing with your clients. The bigger risk is building something that's too feedback-oriented, rather than looking for the underlying pains and problems your clients are dealing with and solving their issues as opposed to only giving them what they say they want.
Henry Ford invented the Model T and changed manufacturing forever, and he said, "If I had asked people what they wanted, they would have said faster horses."
But…
The "reward" of talking to your customers on a regular basis include easier sales, better marketing campaigns, more referrals, innovative ideas as you calibrate your products/services to best problem-solve for your end users, and the humility that comes with remembering WHY you started your company in the first place when times get tough.
Guarantees or other forms of contract flexibility
When you're about to sign on the dotted line, you should be excited about whatever it is you're buying. One way to ease anxiety is to seek guarantees and/or find alternate paths to your goal if things go sideways.
For Meeting of the Minds, we offer "More Than Money Back" guarantees which give our clients asymmetrical risk/reward. The risk to attending one of our events is your time, and you'll actually receive a full refund as well as a meaningful check in your name to your favorite charity if you feel like we don't provide solid ROI.
(We call this risk reversal in marketing speak…)
The reward of attending one of our events is 10X+ ROI on your investment in the form of new connections, strategies for generating more predictable revenue or increasing profitability, solving pressing problems in your business, and more.
For us, offering this risk reversal helps us close more sales because some of our clients feel more comfortable signing up for an event with this bold guarantee. The risk is screwing up one month's cash flow if we need to process a refund (something we've never had to do thankfully) and the reward is signing up more amazing clients.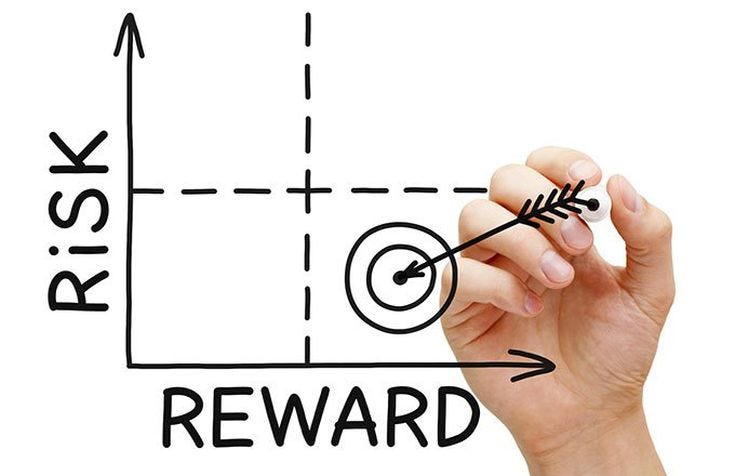 IN CLOSING: What are some other areas of your business where you've leveraged asymmetrical risk/reward?
Where are you struggling to apply this concept? 
Email me (or comment below) and I'd be happy to help out!
-Jared
P.S. - if you're already a subscriber to my weekly email newsletter, what do you think of this new layout and format? Yay? Nay? Also, if you liked this post, click share below or forward this email to a friend!
---
Jared Kleinert is the founder of Meeting of the Minds (motm.co), as well as a TED speaker, 2x award-winning author, and USA Today's "Most Connected Millennial".
Meeting of the Minds curates "super-connectors" and subject matter experts as invite-only attendees to 3 day summits in places like Napa Valley, Bermuda, and elsewhere, as well as "deep dives" such as this Marketing and Biz Dev strategy & implementation workshop. Members of the MOTM network include CEOs of 7, 8, and 9-figure businesses, creators of globally-recognized brands and social movements, New York Times bestselling authors, founders of pre-IPO tech unicorns, c-suite execs from Fortune 500 companies, and others.
Jared's career began at 15 years old when he started his first company, and took off at 16 while working as the first intern, and then one of the first 10 employees, for an enterprise SaaS company called 15Five, which today has raised over $40M and has almost 2000 forward-thinking companies as monthly recurring clients.
Later, Jared would become a delegate to President Obama's 2013 Global Entrepreneurship Summit in Malaysia, write multiple books including the "#1 Entrepreneurship Book of 2015", and speak at TED@IBM the day before he turned 20. 
As a highly-sought after keynote speaker and consultant, Jared's clients range from organizations like Facebook, Samsung, Bacardi, Estee Lauder, IBM, Cornell, Berkeley, AdAge, and the National Speakers Association. His insights on entrepreneurship, networking, marketing, and business development have been featured in Forbes, TIME, Harvard Business Review, Fortune, NPR, Entrepreneur, Mashable, Fox Business and more.
Don't forget to subscribe to my weekly email newsletter!