Meet In-Person, Get on Zoom, Call, Text, or Messenger (in that order...)
Why Face-to-Face Meetings Aren't Going Away Anytime Soon
Last week, I started a month-long series of trips that will take me to New York, Florida, California, and Washington.
In "normal times", I'll take anywhere from 50-75 flights per year and make the rounds to major cities where I've developed strong ties in order to host dinners or other Unique Shared Experiences, take coffee meetings with potential clients or new friends, and stay connected.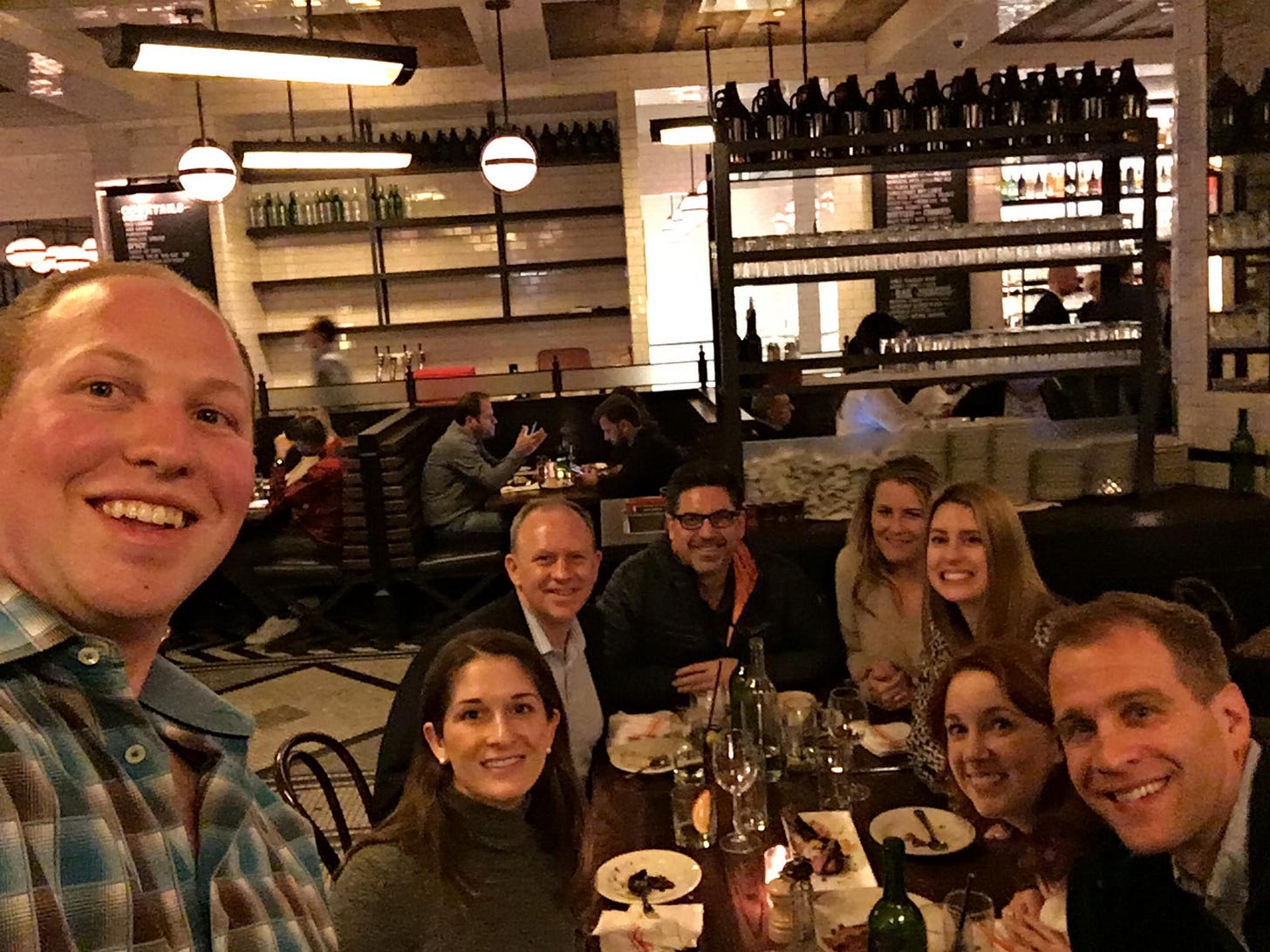 One of the last in-person dinners I hosted in NYC (Jan 2020).
But this year, I've predominantly stayed home, walking to and from my office by otherwise keeping to myself for obvious reasons.
Sure, I've been Zooming away with the best of them.
But my meetings in New York last week in particular (as well as some recent mis-communications via Messenger, Instagram DM, or text) reminded me of how important in real life face-time really is to the modern-day entrepreneur, despite the benefits of telecommunications and remote work.
Why In-Person Meetings Are More Important Than Ever
While I certainly recommend masking, keeping your distance, and weighing the overall risk vs. reward of traveling for in-person meetings as opposed to staying at home or in your office and hopping on Zoom, there's an unfair advantage right now for those who are willing to connect in-person.
During "normal times", our calendars are full, our social lives filling to the brim, and in-person meetings simply aren't as special or daring as they are right now.
Therefore, to the client or influencer you're willing to get on a plane for, book a conference room at a cleanly WeWork or hotel, and spend time with in real life, you become a memorable part of their day.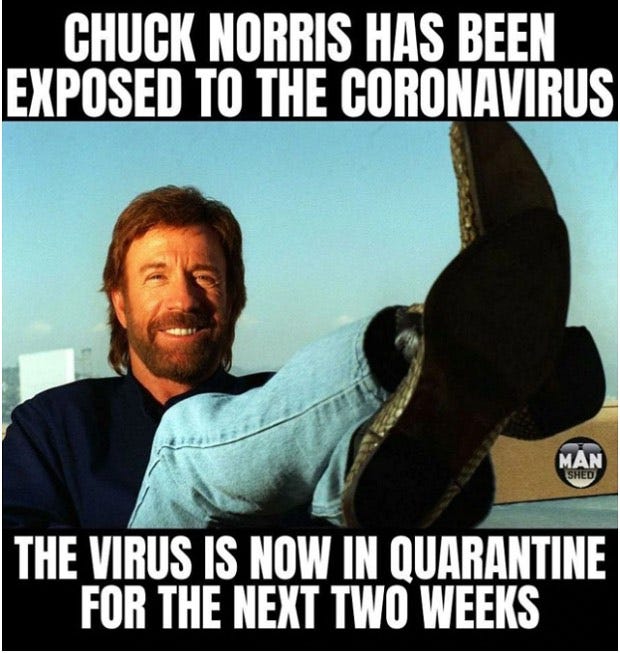 Not only that, but I'm finding that the average person right now is more:
empathetic (it's extremely stressful for most people on the personal and/or professional fronts for various reasons),

authentic (their kids are breaking into the office and making background dancer appearances, or dogs are yapping at their feet),

and open-minded (our institutions from government to universities, science organizations, etc are all failing us, leaving room for innovation).
Therefore, it's a great time to make new friends and deepen pre-existing relationships, especially through in-person meetings.
Also, an overwhelming amount of communication between people is body language.
It's much more difficult to sense negative energy, excitement, unease, or any other helpful pointers (letting you know that things are going well or that your prospect/client is unsure of what you're sharing and needs to be reassured) without body language.
With Zoom (or a phone call), you don't get the added benefits of breaking bread, shooting the sh*t before or after a meeting, and/or going for a walk, adventure, etc.
These are all important elements of finding out who someone is when they are NOT working, and to understand what motivates or drives them. Wouldn't you like to know about a client or team member's spouse? Hobbies? Goals and dreams? I do…
Finally, can you imagine how stellar of an impression you'll leave if you brave airports, 100% masked flights, and all-time high uncertainty in the marketplace to connect with someone in-person (when you could have easily clicked a hyperlink to join a Zoom meeting or jammed your thumbs into a smartphone to send your message)?
In-person meetings now, and forever, show seriousness and commitment.
So, if you're looking to close an important and high-value account, reconnect with your valued employees, and/or develop new partnerships in the next few months, then I'd highly recommend meeting in-person if possible.
How to Avoid Connecting-Crushing Communications
(the 3 C's? lol)
If You're Not Able To Meet Someone IRL
If you're not able to meet someone in-person right now, for fear that you will get yourself or your family sick, then at least consider your other options.
Because of everything we touched on above, especially body language, I highly recommend getting on Zoom as your second-best option, followed by a phone call, and then leaving texts, DMs, email, or other asynchronous communications (Messenger, WeChat) as your last resort.
On Zoom, it is becoming increasingly unacceptable to not have proper WiFi connection, set-up with a decent microphone and camera, and good lighting.
Personally, I use the following products or settings to make my meetings better:
In Zoom, under video settings, I click the "Touch Up My Appearance" button.

I use Krisp.ai to automatically take out background noise (this is a GAME CHANGER!). I've taken calls on my patio with construction in the background and no one hears the noise on the other end! The software cancels out the extra noise and only picks up your voice. It's magic.

I use a Blue Yeti mic for important meetings, podcast recordings, or to run our monthly Deep Dives via Zoom. Simple, yet effective.

I use THIS webcam from Logitech, which combined with a ring light, makes for great HD quality video and lighting.

And, I'm constantly researching other ways to make my calls better…
But even without any fancy tech, you can break through the noise by doing the following before or after your Zooms, calls, or messages.
Send gifts (such as books, flowers, or even a guitar!). Earlier in the pandemic, I wrote handwritten notes to 20 or 30 former clients and included two sheets of toilet paper as a gag gift when there was a nationwide shortage. Why not?!

Provide "In Advance Of" emails that explain the context behind your Zoom meetings or calls and save you the time and hassle of talking about your past work and qualifications.

Record short video text messages to thank someone you've recently connected with and/or to invite them to an upcoming meeting.
Perhaps the most important tip I can give you is to save bad news, constructive criticism, or anything delicate (or requiring maturity) for Zoom or phone calls.
If you have committed to speaking at an event, but have to cancel for whatever reason, do NOT tell the organizer via text, DM, or email. I had this happen to me recently, and it left an awful taste in my mouth. Perhaps there was a valid reason, but these type of exchanges are best handled calmly and directly over phone or Zoom.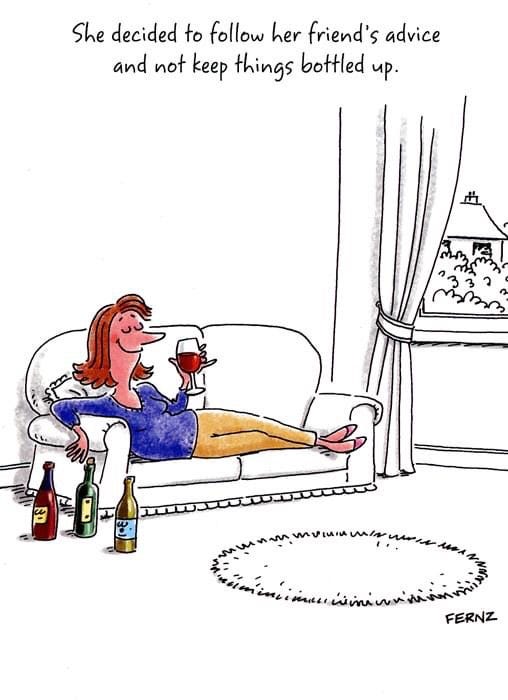 Similarly, if you need to provide feedback to a team member, partner, or friend, the ultimate purpose should be to make them better, so by sharing your perspective over the phone or Zoom (if you can't connect in-person), then you can better parlay your desires to improve the relationship and make the other person more knowledgeable about their craft and can gauge their body language and voice intonation as well.
For all these reasons and so many more, this pandemic will not be the end of in-person meetings.
In fact, I'd argue they are more important than ever, and those who go out of their way to truly connect with their networks will enjoy greater friendships, more fun, and faster-growing businesses.
What are some of your other Zoom or phone call tips? How are you keeping in touch with valued members of your network right now? I'd love to know…
-Jared
P.S. - this is a free weekly edition of our newsletter. Each week, we cover practical insights and resources on marketing, sales, personal branding, community-building, and other building blocks for scaling a profitable bootstrapped business.
If you're not a paid subscriber, here's what you're missing…
The Ultimate Guide to Starting A High Margin Launchpad Business - Without Any Upfront Capital or Pre-Existing Clients
And dozens of other "locked" emails over the last year that are available only to paying, premium subscribers.
To receive ALL of our content, including our most valuable emails each Friday, consider subscribing by clicking the button below👇.
---
Jared Kleinert is the founder of Meeting of the Minds (motm.co), as well as a TED speaker, 2x award-winning author, and USA Today's "Most Connected Millennial".
Meeting of the Minds curates "super-connectors" and subject matter experts as invite-only attendees to 3 day summits in places like Napa Valley, Bermuda, and elsewhere, as well as "deep dives" such as this Marketing and Biz Dev strategy & implementation workshop. Members of the MOTM network include CEOs of 7, 8, and 9-figure businesses, creators of globally-recognized brands and social movements, New York Times bestselling authors, founders of pre-IPO tech unicorns, c-suite execs from Fortune 500 companies, and others.
Jared's career began at 15 years old when he started his first company, and took off at 16 while working as the first intern, and then one of the first 10 employees, for an enterprise SaaS company called 15Five, which today has raised over $40M and has almost 2000 forward-thinking companies as monthly recurring clients.
Later, Jared would become a delegate to President Obama's 2013 Global Entrepreneurship Summit in Malaysia, write multiple books including the "#1 Entrepreneurship Book of 2015", and speak at TED@IBM the day before he turned 20.
As a highly-sought after keynote speaker and consultant, Jared's clients range from organizations like Facebook, Samsung, Bacardi, Estee Lauder, IBM, Cornell, Berkeley, AdAge, and the National Speakers Association. His insights on entrepreneurship, networking, marketing, and business development have been featured in Forbes, TIME, Harvard Business Review, Fortune, NPR, Entrepreneur, Mashable, Fox Business and more.
Don't forget to share! :)