How I Scored An Interview with the *Legendary* Larry King!!!
Two weeks ago, I had the experience of a lifetime being interviewed by Larry King, and I'd like to share with you *how* I earned such an opportunity so you can have additional perspective in how you reach out to potential clients, PR leads, or influencers in your industry.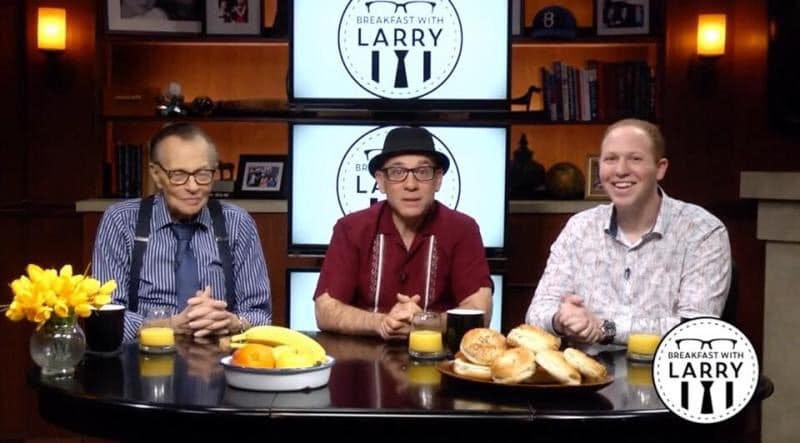 THIS IS HOW I SCORED AN INTERVIEW WITH THE "LEGENDARY" LARRY KING AND NYT BESTSELLING AUTHOR CAL FUSSMAN
Building a world-class network in record time is all about being intentional about who you surround yourself with and how you connect with those individuals.

More simply, it comes down to:
1) Who You Know... (and)

2) How Well You Know Them
As I may have shared with you in the past, I started my first company at 15.
I failed miserably for many reasons, the biggest of which was poor mentor selection. I spent six months hanging out on an almost-daily basis with a guy who later told me that he had served time in prison for securities fraud on Wall Street. (Yikes.)

Because of this experience, connecting with high-integrity individuals became the #1 trait I screen for in building my network. And at 16, I cold-emailed David Hassell, who was named "The Most Connected Man You Don't Know In Silicon Valley" according to Forbes.

NOTE - here's some cold email templates for contacting influencers.
High-integrity.
Serial entrepreneur.
Well-connected.
An expert in his craft.

David turned out to be all this and more. I ended up spending two years working for his company, going from unpaid intern to remote full-time employee, helping to build various marketing and sales campaigns before I left the company to start my own consulting firm and write my first book with NYC-based publisher St. Martin's Press.

Meeting this one "super-connector" and then deepening our relationship so that the trust and intimacy we'd created as mentor-mentee and employer-employee allowed me to then leverage that connection to meet other influential individuals, eventually leading me to meet and be interviewed by Larry King.

Here's how I met Larry King, step-by-step...

David introduced me to Eben Pagan, a pioneer in the info-product industry, and Eben invited me to one of his $6K-per-ticket mastermind events in Sedona, AZ.

At this event, I met 9-time NYT bestselling author Neil Strauss at a breakout session, and followed up with Neil afterwards. A year or so later, Neil hosted a dinner in Malibu, CA when I happened to be visiting town.

Around the dinner table was Craig Clemens and Sarah Anne Stewart, an entrepreneurial couple that invests heavily in community-building and surrounding themselves with incredible "Minds" in business, health, tech, and more. They turned out to be some of the nicest and most connected folks I've ever met.

Then, at one of Craig and Sarah's get-togethers, I met NYT bestselling author and former Esquire columnist Cal Fussman (a "peerless interviewer" of celebrities, business titans, and politicians as described by Tim Ferriss).

Cal then invited me onto "Breakfast With Larry", the show he and Larry interviewed me on two weeks ago. Pretty cool, right?!

Access is critical. But how you connect with people is even more important.
When I talk about networking and relationship-building at conferences or events, the "basics" I share from stage are always.
Be a good person.

Provide value upfront.

Be intentional about who you meet and how you connect with them.
The "be a good person" reminder is all about having integrity.
To me, this means treating people respectfully regardless of what they can do for you, communicating with others effectively, honoring commitments, apologizing when you've made a mistake as we all do, and having humility.

Most everyone else hears and listens to "their favorite radio station" W-I-I-F-M, or "what's in it for me?"
So, if you can provide value upfront when interacting with potential clients, influencers, or "super-connectors", you can build a relationship with them more effectively because you are proving your worth to them, and showcasing why they should want to be around you as much as possible.

This can be done by offering meaningful introductions, providing constructive feedback, promoting someone else's work, offering to do free work, donating to another person's favorite charity, inviting someone to your well-curated dinner or event, or a myriad of other actions and considerations.

Providing value to everyone you meet is certainly an aspiration, but having the *intention* to do so is a MUST.

As for being intentional about who you meet, here's my thoughts. While I didn't necessarily seek connections with Eben, or Neil, or Craig and Sarah, or Cal as individuals, I was VERY aware that by attending events, dinners, and gatherings hosted by these types of influencers, I would naturally meet other high-integrity people who were world-class at what they do, and have likely achieved some level of business success.

I've put myself in the position to connect with great people by trusting certain curators, "showing up" regardless of whether it cost money, or required a plane ticket, or would take a lot of my time, and when I was in the room at these events, then I could be myself because I knew everyone around me was a great person to chat with, and thus I didn't need to "work the room" at all.

This is how I approach networking and relationship-building today, and it is less about business cards, asking questions like "what do you do", and looking to meet certain people. It's ALL about connecting with others and placing my trust in curators that always surround themselves with people who are at the next level.

A mastermind like Eben's event in Sedona, or Meeting of the Minds, exists to accelerate the trust and intimacy that is built among attendees so those connections can be leveraged for meaningful opportunities like generating unforgettable experiences such as being interviewed by Larry King...or so that when you get inputs and ideas like the ones I've shared in this email, there's accountability in executing on those nuggets of wisdom.

I'd argue that - if you want to get more speaking and press, write a book, scale your company, save yourself time and money in attending events, find JV partners, or solve any problem you're currently faced with in business - you should join a mastermind group where you know, like, and trust the curator(s) and see that they will facilitate meaningful interactions between you and other "super-connectors" so you can skyrocket your success.

These are only some ideas for achieving your goals more effectively however.

I'd love to hear from you - what resonates with you from this discussion, and how else have you gone about meeting highly influential individuals, accessing once-in-a-lifetime opportunities, and accomplishing all the great things you've done in your career?

Also, shoot me a note if you want me to share some clips from my interview with Larry and Cal when I get access to them :).

Thanks, and have an awesome day!

- Jared
P.S. - Recently, we announced our Premium Membership Options. It would mean the world to me if you'd sign up as a paid subscriber to this newsletter. For only $2.31/week, or less than a cup of coffee at Starbucks, you'll get ALL my best content including valuable templates, resources, webinars, AMAs with special guests from my network, 2+ emails from me every week, audio recordings of these write-ups so you can learn "on-the-go", and more!
---
Jared Kleinert is the founder of Meeting of the Minds (motm.co), as well as a TED speaker, 2x award-winning author, and USA Today's "Most Connected Millennial".
Meeting of the Minds curates "super-connectors" and subject matter experts as invite-only attendees to 3 day summits in places like Napa Valley, Bermuda, and elsewhere, as well as "deep dives" such as this Marketing and Biz Dev strategy & implementation workshop. Members of the MOTM network include CEOs of 7, 8, and 9-figure businesses, creators of globally-recognized brands and social movements, New York Times bestselling authors, founders of pre-IPO tech unicorns, c-suite execs from Fortune 500 companies, and others.
Jared's career began at 15 years old when he started his first company, and took off at 16 while working as the first intern, and then one of the first 10 employees, for an enterprise SaaS company called 15Five, which today has raised over $40M and has almost 2000 forward-thinking companies as monthly recurring clients.
Later, Jared would become a delegate to President Obama's 2013 Global Entrepreneurship Summit in Malaysia, write multiple books including the "#1 Entrepreneurship Book of 2015", and speak at TED@IBM the day before he turned 20. 
As a highly-sought after keynote speaker and consultant, Jared's clients range from organizations like Facebook, Samsung, Bacardi, Estee Lauder, IBM, Cornell, Berkeley, AdAge, and the National Speakers Association. His insights on entrepreneurship, networking, marketing, and business development have been featured in Forbes, TIME, Harvard Business Review, Fortune, NPR, Entrepreneur, Mashable, Fox Business and more.
Don't forget to share! :)