This 24 Year Old Has Sold Over 50,000 Apple Watch Bands In Less Than 3 Years (Here's How!)
Braxton Manley is the co-founder of Braxley Bands, a lifestyle accessories brand focused on blending practical benefits and fashion-forward designs into its products.
We have a phrase at Meeting of the Minds we use to describe people like Braxton.
He's "10 Years From Titan", meaning I'd bet a lot of money that he'll become a titan of his industry in the next 10-20 years. Consider this your notice!!! Get Braxton and his co-founder Grant on your radar now (and go snag a Braxley Band).
Our conversation is wide-ranging, from daily habits and practices to how Braxton and his co-founder divide the roles and responsibilities for running a 7-figure, fast-growing e-commerce business.
What started as a class project with $20 in material costs has quickly scaled to sell over 15,000 products in under 3 years.
Wearers of Braxley Bands' elastic Apple Watch bands include NFL MVP Patrick Mahomes, Billionaire Mark Cuban, and MTV star Corey Brooks. And, for every band sold, the company plants a tree (and is on a mission to plant 100,000 trees!).
Braxton, 24, lives in downtown Austin and is an experienced guitarist, actor, and painter. His company has been featured in publications such as Austin Business Journal, MacRumors.com, Campus Live Magazine, The Daily Toreador, and more.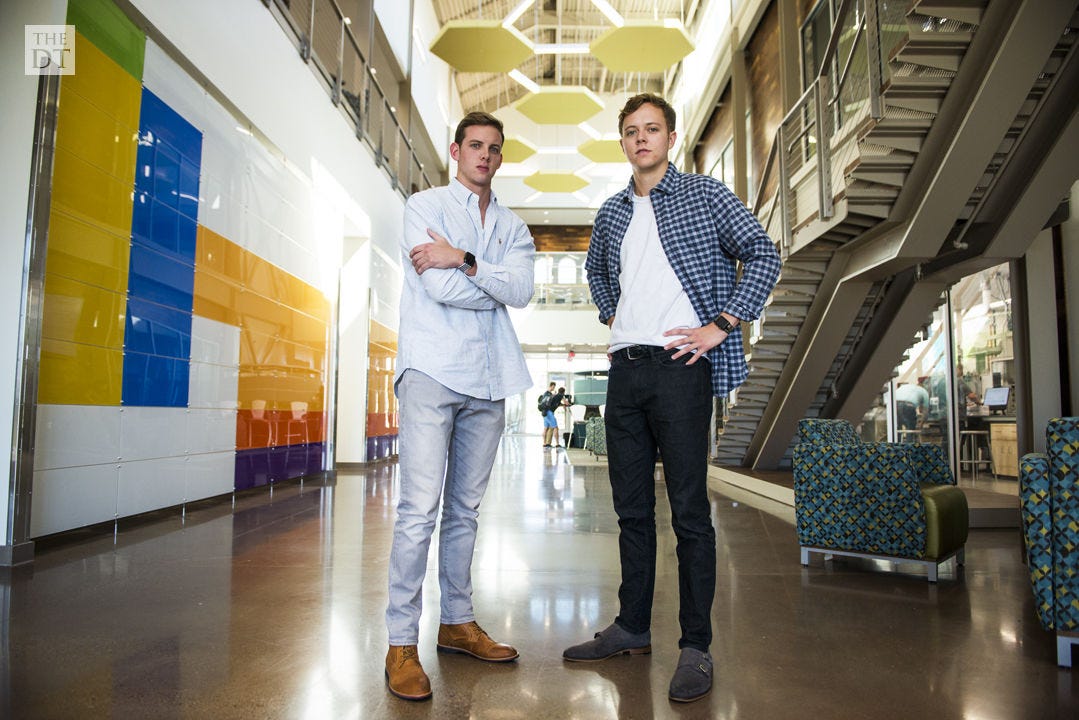 Braxton Manley and Grant Andrews, co-founders of Braxley Bands, who are usually smiling a lot more 😄😄😄
---
Jared Kleinert is the founder of Meeting of the Minds (motm.co), as well as a TED speaker, 2x award-winning author, and USA Today's "Most Connected Millennial".
Meeting of the Minds curates "super-connectors" and subject matter experts as invite-only attendees to 3 day summits in places like Napa Valley, Bermuda, and elsewhere, as well as "deep dives" such as this Marketing and Biz Dev strategy & implementation workshop. Members of the MOTM network include CEOs of 7, 8, and 9-figure businesses, creators of globally-recognized brands and social movements, New York Times bestselling authors, founders of pre-IPO tech unicorns, c-suite execs from Fortune 500 companies, and others.
Jared's career began at 15 years old when he started his first company, and took off at 16 while working as the first intern, and then one of the first 10 employees, for an enterprise SaaS company called 15Five, which today has raised over $40M and has almost 2000 forward-thinking companies as monthly recurring clients.
Later, Jared would become a delegate to President Obama's 2013 Global Entrepreneurship Summit in Malaysia, write multiple books including the "#1 Entrepreneurship Book of 2015", and speak at TED@IBM the day before he turned 20. 
As a highly-sought after keynote speaker and consultant, Jared's clients range from organizations like Facebook, Samsung, Bacardi, Estee Lauder, IBM, Cornell, Berkeley, AdAge, and the National Speakers Association. His insights on entrepreneurship, networking, marketing, and business development have been featured in Forbes, TIME, Harvard Business Review, Fortune, NPR, Entrepreneur, Mashable, Fox Business and more.
Don't forget to subscribe to our Substack!