Discover more from Meeting of the Minds
Practical insights & resources for entrepreneurs who are "world-class" at their craft.
Super-Connectors U.S.E. Networking To Get Paid and Have Fun
Leverage Unique Shared Experiences to Create Deep, Meaningful Connections
What if I told you…
Renting yachts, organizing wine tours, volunteering, rappelling down mountains, sweating through group workout classes, trying out some new dance moves, or heading to a Frank Sinatra reenactment concert will not only lead to great photos and fun, but can actually make you money AND give you life-long friends.
Would you be interested in learning more?
These are all experiences I've curated, paid for, and participated in to connect clients and members of my greater entrepreneurial community. Without fail, I've always walked away with a big smile on my face and great leads for my business.
Why?
Each of these examples represents a "unique shared experience" (or USE), and super-connectors facilitate USEs to create deep, meaningful connections for their community.
Plus, if you get the opportunity to rent a luxury catamaran like the Zara, who would say no to an evening cocktail cruise!?! 😁😎🙃
USEs are wonderful because they:
1) quickly build trust and intimacy among any growth-minded group of people;

2) are "remarkable", thus leading to referrals and good will; and…

3) they're FUN! That's gotta be worth something, too.
For example, take this unique shared experience we organized to kickoff our Q4 2019 Meeting of the Minds in Bermuda.
After learning Wine-Tasting 101 from an attendee who was also training to become a sommelier, we partied in the penthouse suite of our hotel and enjoyed great food, drinks, and music.
Late into the evening, a group of performers led our group down to the pool deck, where we watched three fire spinners do a 20 minute choreographed show!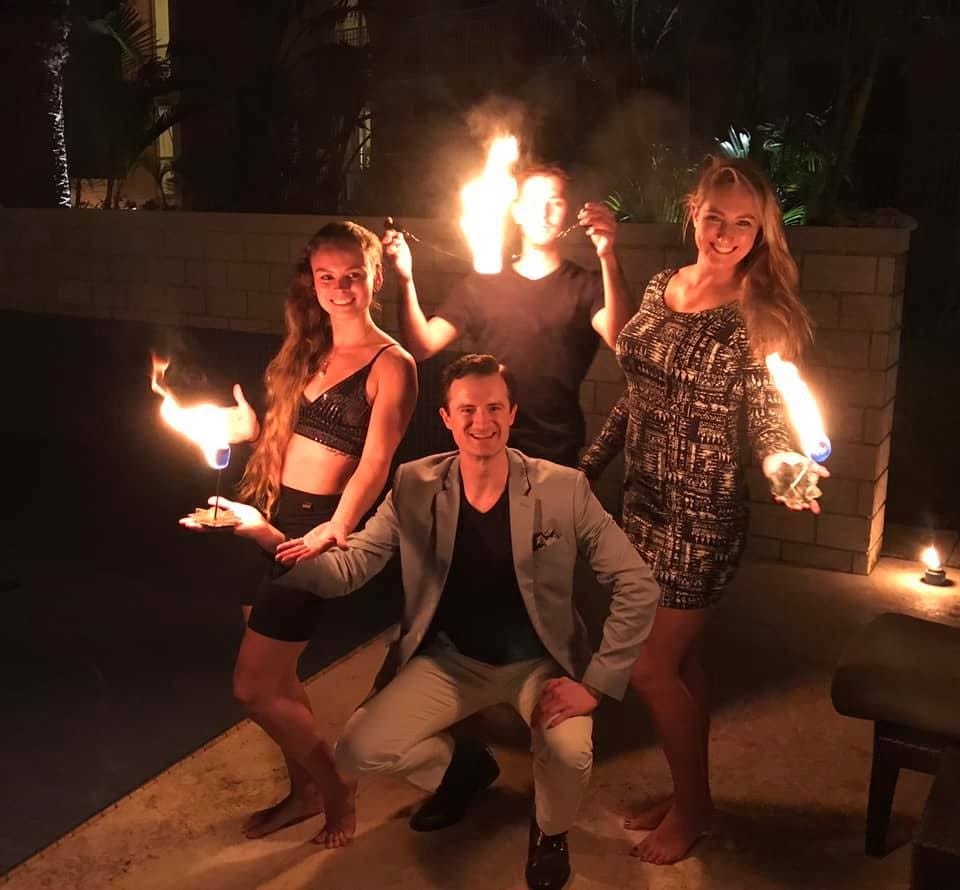 Building Trust and Intimacy
Many USEs revolve around learning a new skill, like wine appreciation or dancing, fitness, improv, etc. Given that a vast majority of your group will be trying something new for the first time (depending on the eccentricity of your group and activity choices), there is a certain vulnerability that comes with being a "beginner" who is willing to look stupid or fail at something.
Our community of entrepreneurs invests heavily in personal and professional branding, building confidence and competence at their craft, and bringing their "best selves" to work, so when faced with the challenge of learning something new, most of these people are forced to drop their guard and check their egos at the door.
For USEs that are more passive or entertainment-driven (like watching fire spinners, yachting, and taking in improv shows or a Frank Sinatra impersonator), most folks will respond with gratitude for how EPIC and AWESOME that experience is.
There's an openness to the moment that forges friendships and allows for common ground among diverse, strong-willed individuals like the entrepreneurs we typically attract through this newsletter and our monthly events.
Expanding Your Community and Being "Remarkable"
During "normal times", I usually host a dinner for entrepreneurs once every two weeks in Atlanta.
Whenever I travel, I'll also host a meal to catch up with friends in a given city.
I provide simple rules like "no talking about work until our main course is served," and I'll offer the ability to bring a +1 to our meals if we still have space.
Over the years, I've built a reputation for gathering interesting, eclectic entrepreneurs at these dinners. These USEs have become "remarkable" in the sense that my existing community tells others about these dinners via +1s, social media posts, and retelling of past dining experiences in future group settings.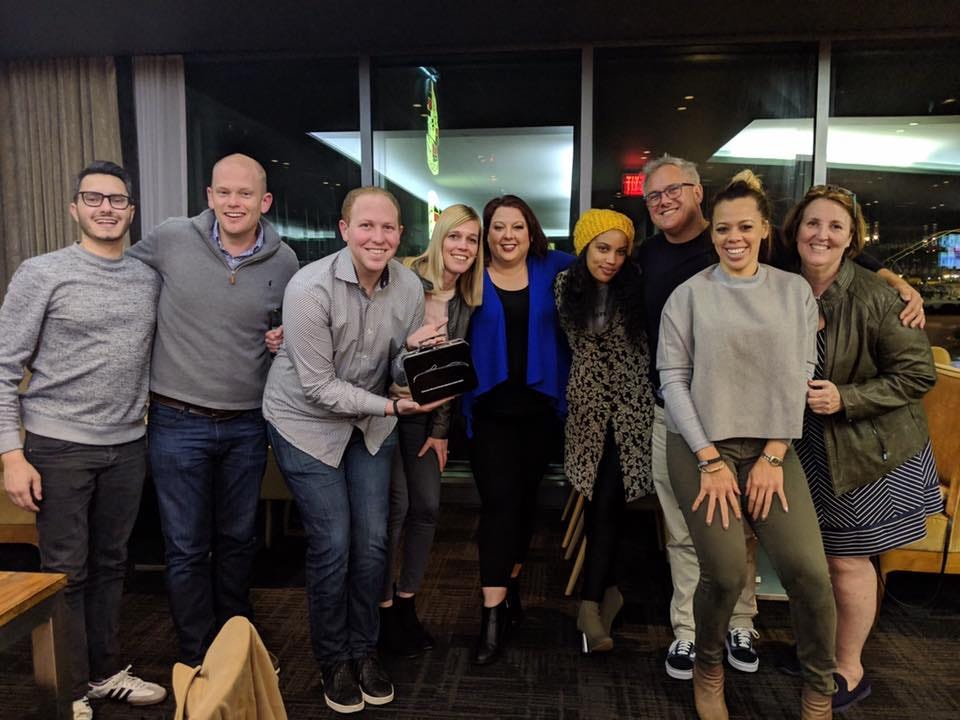 In the photo above, taken after dinner one night at the Porsche Experience Center during our Q1 2019 Meeting of the Minds in Atlanta, there's at least two examples of my dinner gatherings leading to +1s for future dinners (and tens of thousands of dollars in revenue for our company!).
To my right, Gaynete (in the yellow beanie) co-hosted a dinner with me in Bermuda a few months after this gathering in Atlanta, where I met a handful of new people. Three of those dinner attendees have since attended one of our in-person or virtual events, and one became an annual Meeting of the Minds member last year.
To my immediate left is Justin, who has invited at least a dozen entrepreneurs to our dinners, events, and social outings over the last few years, largely through telling them of past shenanigans and highlighting the interesting people who've showed up.
Justin has subsequently introduced us to three annual Meeting of the Minds members, and most of the time he's not talking about our business model or how we can serve entrepreneurs. Rather, he's remarking on the unique shared experiences he's attended.
With each of our annual members making investments of $15K+, it's easy to see how high of an ROI we get from how "remarkable" our USEs have been historically.
Having Fun!!!
Even if you never earn a single penny from organizing USEs for your network, you'll sleep easy at night knowing you had a lot of fun and catalyzed positive memories for your friends.
Over the weekend, I saw a great tweet from Charlie Hoehn, one of the contributors to my last book 3 Billion Under 30 who has worked on book launches with Tim Ferriss, Ramit Sethi, Seth Godin, Tucker Max, and David Goggins. He said…
"The best networkers don't call it 'networking.' They don't 'build relationships.' They call it friendship, and they take care of their friends."
Through USEs, which can be as affordable or down-to-earth as a hosting a dodgeball game, heading to a pool at someone's apartment complex, or attending a yoga class, you can have a ton of fun and build great friendships.
These connections lead to personal and professional growth, and your network will thank you for introducing them to new life-long friends.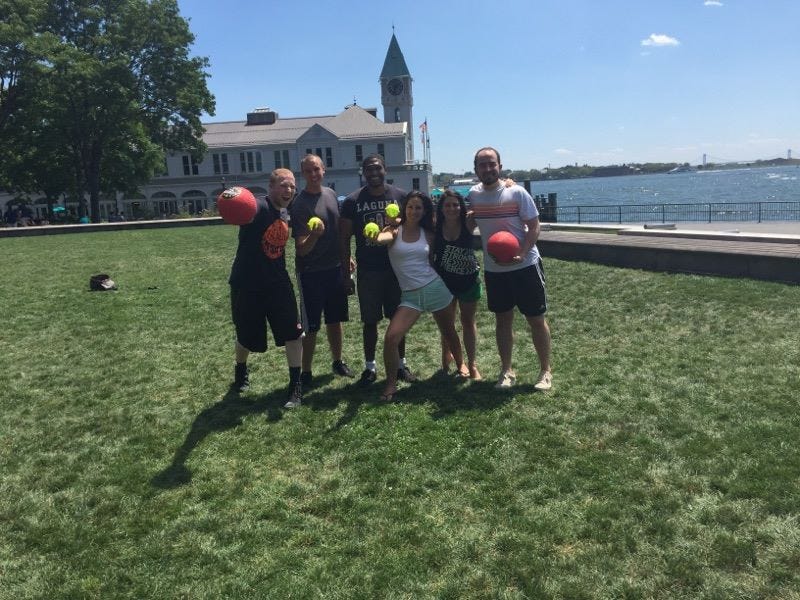 In Conclusion
If you'd like to become a "super-connector" in your industry or community, then consider curating and facilitating unique shared experiences (USEs) for your network.
Those who join you as pre-existing connections, and the +1s you'll meet along the way, will become close(r) friends with you and one another, and you'll not only earn new clients, but you'll become a beacon of positivity.
I've shared some ideas above, but I'd love to hear from you…
What are some pandemic-friendly Unique Shared Experiences you'd like to organize for others and/or participate in if we were to host them and invite you?
Let me know!
Happy connecting…
-Jared
---
Jared Kleinert is the founder of Meeting of the Minds (motm.co), as well as a TED speaker, 2x award-winning author, and USA Today's "Most Connected Millennial".
Meeting of the Minds curates "super-connectors" and subject matter experts as invite-only attendees to 3 day summits in places like Napa Valley, Bermuda, and elsewhere, as well as "deep dives" such as this Marketing and Biz Dev strategy & implementation workshop. Members of the MOTM network include CEOs of 7, 8, and 9-figure businesses, creators of globally-recognized brands and social movements, New York Times bestselling authors, founders of pre-IPO tech unicorns, c-suite execs from Fortune 500 companies, and others.
Jared's career began at 15 years old when he started his first company, and took off at 16 while working as the first intern, and then one of the first 10 employees, for an enterprise SaaS company called 15Five, which today has raised over $40M and has almost 2000 forward-thinking companies as monthly recurring clients.
Later, Jared would become a delegate to President Obama's 2013 Global Entrepreneurship Summit in Malaysia, write multiple books including the "#1 Entrepreneurship Book of 2015", and speak at TED@IBM the day before he turned 20. 
As a highly-sought after keynote speaker and consultant, Jared's clients range from organizations like Facebook, Samsung, Bacardi, Estee Lauder, IBM, Cornell, Berkeley, AdAge, and the National Speakers Association. His insights on entrepreneurship, networking, marketing, and business development have been featured in Forbes, TIME, Harvard Business Review, Fortune, NPR, Entrepreneur, Mashable, Fox Business and more.
Don't forget to share! :)