Macroeconomic Trends, Why We Won't Have A "V" Shaped Recovery, And How To Steady Your Business During Crisis
Featuring former Fortune 500 Chief HR Officer Bill Allen
You may not know his name, but you've heard of the companies he's spearheaded over decades working as a senior executive among Fortune 500 companies.
Bill Allen spent over 20 years as the Chief Human Resources Officer of three publicly traded companies.
I met Bill when I was only 18 years old, after cold-emailing him to include him in a Forbes article I was writing about how big companies were managing their top-performing Millennial talent. Bill was kind enough to answer, and we've kept in touch, even hosting Bill as one of our keynote speakers in Bermuda during one of our quarterly Meeting of the Minds summits.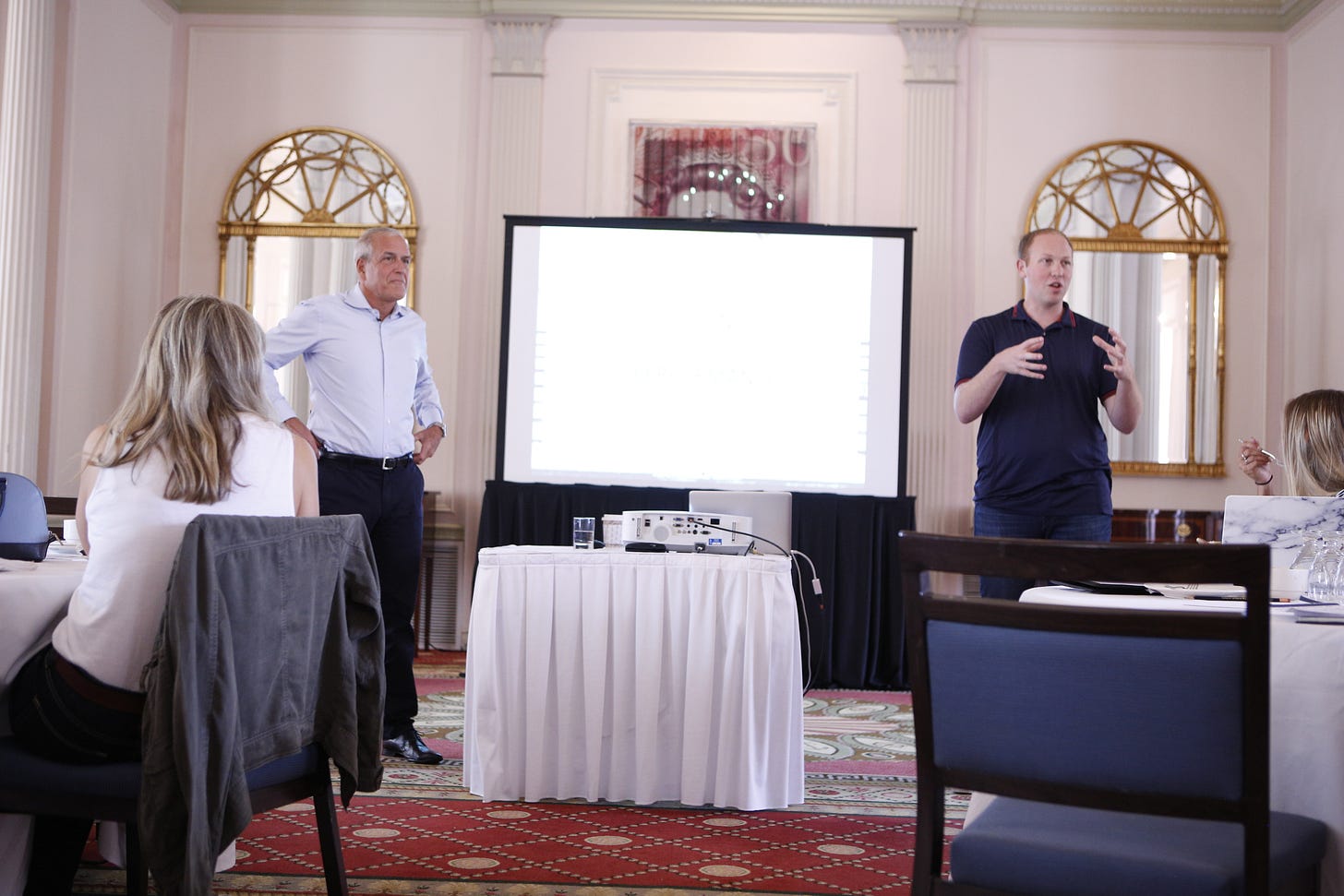 In this interview, recorded a few weeks into the pandemic and its economic ripple effect, we spoke about:
Macroeconomic trends, including his thoughts on how and when we recover.

Best practices for navigating your business, regardless of its size, during a crisis.

How this crisis compares to working for an airline during 9/11.

How to address your clients to protect and perhaps even grow your business.

And more!
Today, as a sought-after advisor through his firm, Allen Advisors, LLC, Bill provides business solutions to clients in private equity, consulting, and professional services.
Bill's perspective is fascinating to me, which is why I've made it a point to keep in touch and check in with him every so often.
Because of his insights into the economy, the world of Human Resources, and more, he's a frequent guest lecturer at universities, including the business schools at Auburn, Copenhagen, Harvard, North Carolina and South Carolina.
Bill's corporate experience began in PepsiCo's Frito Lay division – where he played a key role in the HR function during Roger Enrico's highly successful "Take Back the Streets" growth campaign – and flourished during his time as CHRO at the A.P.Moller-Maersk Group, a $60 billion diversified Danish business conglomerate in the transport, logistics and energy sectors, helping lead the Group's business and cultural transformation.
Bill also was Chief Human Resources Officer for Macy's and Chief Human Resources Officer at Atlas Air Worldwide Holdings, Inc. Bill has been named to Human Resource Executive Magazine's HR Honor Roll and Auburn University Harbert College of Business Top 40 Alumni, and was an Elected Fellow for the National Academy of Human Resources, and is a Board Member for the National Academy of Human Resources and the Human Resources Executive Public Policy Committee, as well as Co-Chair of the Working Group for the American Heart Association CEO Roundtable and Founding Chair of the Consortium for Global Talent in Denmark.
Bill and his wife, Beth, have two adult children and live in Newry, ME, where they enjoy family, friends, and the great outdoors.
I hope you enjoy this interview, and let me know what you learned from our conversation!
-Jared
---
Jared Kleinert is the founder of Meeting of the Minds (motm.co), as well as a TED speaker, 2x award-winning author, and USA Today's "Most Connected Millennial".
Meeting of the Minds curates "super-connectors" and subject matter experts as invite-only attendees to 3 day summits in places like Napa Valley, Bermuda, and elsewhere, as well as "deep dives" such as this Marketing and Biz Dev strategy & implementation workshop. Members of the MOTM network include CEOs of 7, 8, and 9-figure businesses, creators of globally-recognized brands and social movements, New York Times bestselling authors, founders of pre-IPO tech unicorns, c-suite execs from Fortune 500 companies, and others.
Jared's career began at 15 years old when he started his first company, and took off at 16 while working as the first intern, and then one of the first 10 employees, for an enterprise SaaS company called 15Five, which today has raised over $40M and has almost 2000 forward-thinking companies as monthly recurring clients.
Later, Jared would become a delegate to President Obama's 2013 Global Entrepreneurship Summit in Malaysia, write multiple books including the "#1 Entrepreneurship Book of 2015", and speak at TED@IBM the day before he turned 20. 
As a highly-sought after keynote speaker and consultant, Jared's clients range from organizations like Facebook, Samsung, Bacardi, Estee Lauder, IBM, Cornell, Berkeley, AdAge, and the National Speakers Association. His insights on entrepreneurship, networking, marketing, and business development have been featured in Forbes, TIME, Harvard Business Review, Fortune, NPR, Entrepreneur, Mashable, Fox Business and more.
Don't forget to subscribe to our Substack!