Identifying Your Zone of Genius
ALSO INCLUDED: instructions (and a helpful template) for creating a Vivid Vision of where you'd like your career and life to be in 3 years from now...
When I was 16…
Going on 17…
I worked for a VC-backed tech startup under "The Most Connected Man You Don't In Silicon Valley" according to Forbes.
(Quite different than the plot for Sound of Music, but I digress…)
I'd spent the last year working as an unpaid intern after sending a cold email to this Founder/CEO, offering to work pro-bono in exchange for mentorship, and fielding various "grunt work" marketing tasks.
Now, I was being promoted! Gettin' on payroll. 😎
But first, my mentor asked I undertake a few personality profiles, write a Vivid Vision for myself in three years' time, and discover my Zone of Genius.
(Sidebar - I was going to write today about the Vivid Vision exercise, but for now you can watch the video below and use THIS template to follow along.)
"Zone of Genius" is the core concept of a book titled Unique Ability: Creating The Life You Want from The Strategic Coach organization, which is a premium business coaching community based in Toronto.
They describe your unique ability, or Zone of Genius, as such:
"It's a combination of your personal talents, passions, and skills. You've always had this ability, but you may never have stopped to clearly identify it. Few people do."
My mentor broke it down for me like this…
First, create a Venn Diagram of your Passions, Skills, and Opportunities (or what the "market" values - we'll get to what this means in a moment).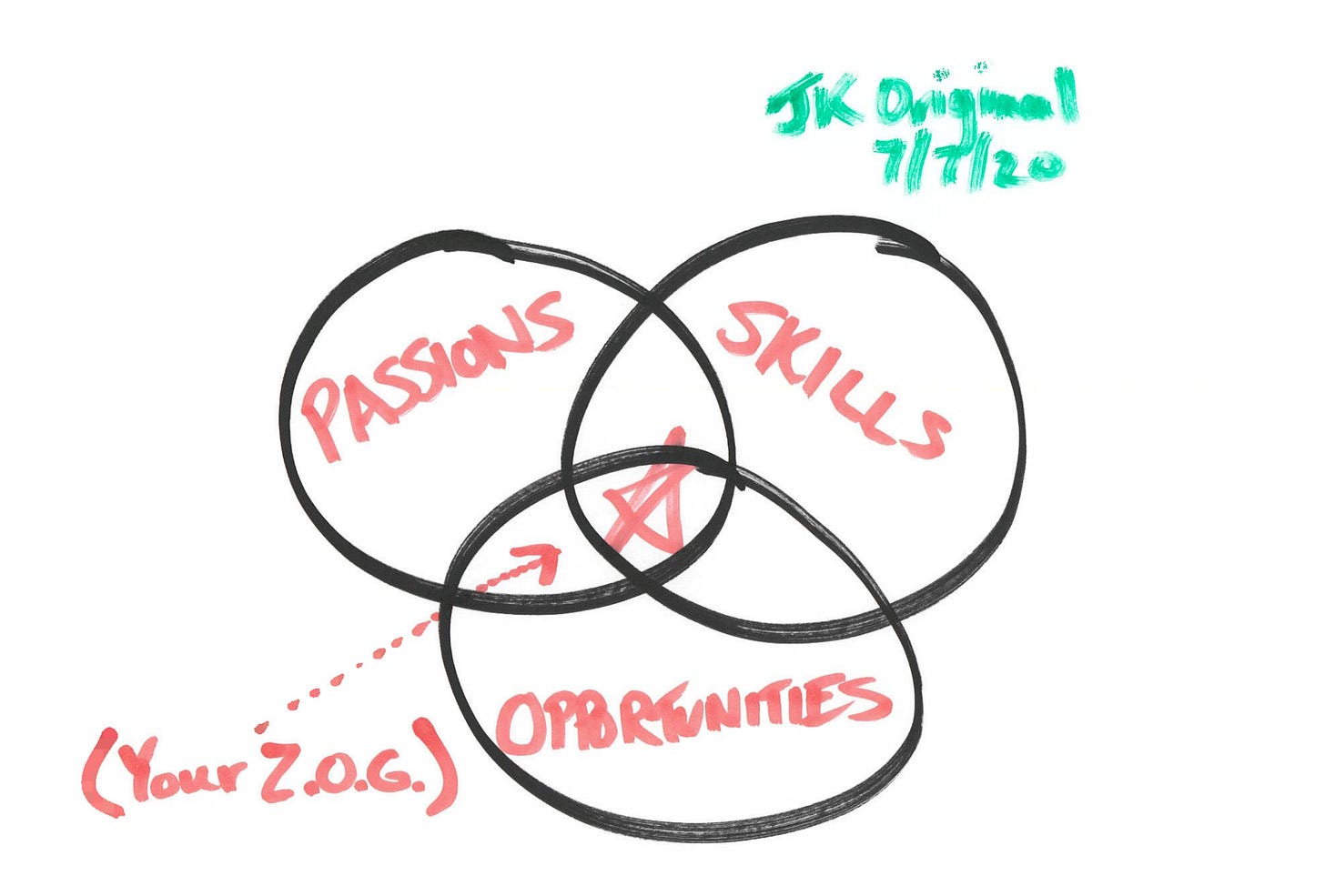 For your passions, brain dump everything you'd describe as a hobby, bucket list item, or enjoyable part of your day.
If you're struggling to fill this bubble, then create a separate list outside of your Venn Diagram of "experiments" you'd like to test out in your everyday life.
Perhaps there are activities, experiences, or adventures that other people are really into like Sourdough Bread-Making that you haven't tried yet but would be willing to for the sake of scientific rigor and, more importantly, stumbling on some things in life that you're passionate about.
For skills, list everything that you're good at, including hard skills (i.e. coding, accounting, sales) and soft skills (like being empathetic or meticulous).
My mentor had me complete a Kolbe A index as well (highly recommended for $55), and while our friend Benjamin Hardy would argue that these tests can be misleading as described in his new book Personality Isn't Permanent, I think the assessment could be helpful in discovering how to speak to others about your dominant skills.
I was also tasked with emailing about 20 of my teachers, other mentors, friends, and family members to ask them what they'd describe as my strengths and where they thought I could improve as an entrepreneurial-minded individual.
If you're open to constructive criticism, I really think this process is quite illuminating.
For Opportunities, or what the "market" values, brainstorm and research all the problems in your industry and community as well as potential solutions.
We don't have to look far.
The coronavirus has impacted almost all facets of our modern-day lives and businesses. Rather than sit back and watch our companies and communities deteriorate, let's look at the second-order effects of social distancing to find opportunity in the second and third order effects. 
RESOURCE - this collaborative project led by serial social entrepreneur and Harvard Business Review contributor Michael Simmons.
You also likely have frustrations central to your industry or community in particular, and can jot down these issues along with potential innovations for the purposes of discovering your Zone of Genius.
I personally see a world that lacks effective debate, conflict resolution, and curation of top Minds around solving society's most pressing problems like climate change, political and social unrest, and growing wealth inequality for example, and so I'd add these observations to my list of Opportunities.
Your Zone of Genius is where these bubbles intersect. Ideally, you can describe your ZOG in one sentence.
My Zone of Genius, as I identified with my mentor, is connecting people and ideas in creative, value-add ways that generate "win-win-win" outcomes for all involved.
With the knowledge of your Zone of Genius, you can begin to craft your ideal lifestyle, company, and schedule around ONLY working on things you're world-class at, and letting everyone else do everything else.
I've leveraged this awareness to create online communities for the world's top Millennial talents, write two award-winning anthologies where 75 contributors per book shared their formative life experiences and practical advice directly with the reader, and now run Meeting of the Minds as a high-end mastermind group for entrepreneurs who want to generate more predictable revenue and increase the profitability of their bootstrapped small businesses.
My challenge for you today…
Take some time to discover your Zone of Genius.
Brainstorm your passions and skills, take a Kolbe A index, and challenge yourself to find hidden opportunities in your industry and/or community.
The intersection of these bubbles is where your "genius" lies.
If you take action on your discovery, this is likely where you'll find yourself in the top 1% (or top 0.1%) of all people on the planet for your craft.
And that, my friend, is something to celebrate!
Reply to my email, or comment below if you're viewing today's email online, and let me know what you find out.
-Jared
---
Jared Kleinert is the founder of Meeting of the Minds (motm.co), as well as a TED speaker, 2x award-winning author, and USA Today's "Most Connected Millennial".
Meeting of the Minds curates "super-connectors" and subject matter experts as invite-only attendees to 3 day summits in places like Napa Valley, Bermuda, and elsewhere, as well as "deep dives" such as this Marketing and Biz Dev strategy & implementation workshop. Members of the MOTM network include CEOs of 7, 8, and 9-figure businesses, creators of globally-recognized brands and social movements, New York Times bestselling authors, founders of pre-IPO tech unicorns, c-suite execs from Fortune 500 companies, and others.
Jared's career began at 15 years old when he started his first company, and took off at 16 while working as the first intern, and then one of the first 10 employees, for an enterprise SaaS company called 15Five, which today has raised over $40M and has almost 2000 forward-thinking companies as monthly recurring clients.
Later, Jared would become a delegate to President Obama's 2013 Global Entrepreneurship Summit in Malaysia, write multiple books including the "#1 Entrepreneurship Book of 2015", and speak at TED@IBM the day before he turned 20. 
As a highly-sought after keynote speaker and consultant, Jared's clients range from organizations like Facebook, Samsung, Bacardi, Estee Lauder, IBM, Cornell, Berkeley, AdAge, and the National Speakers Association. His insights on entrepreneurship, networking, marketing, and business development have been featured in Forbes, TIME, Harvard Business Review, Fortune, NPR, Entrepreneur, Mashable, Fox Business and more.
Don't forget to subscribe to my weekly email newsletter!