Defying Gravity, Building Company Culture Through Adventure, and Creating an Epic Life
Marshall Mosher is the co-founder of VESTIGO, as well as an Executive/Test Pilot for the Gravity Industries propulsion suits.
While we recorded this conversation in March, I know Marshall's continued living an epic life despite a global pandemic, challenges with convening corporate executives for Vestigo outings, and the ensuing political and social unrest we've seen (as I write this June 18).
That being said, you do NOT want to miss the interview, as we get into the science and mindsets behind building deep, meaningful relationships through unique shared experiences, learn all about Marshall's company, and how to navigate fear.
Marshall Mosher, from Atlanta, GA is a 2015 graduate of the University of Georgia where he completed a triple major in Biology, Psychology, and Economics along with aMasters in Public Health Administration.
After graduation, Marshall participated in a summer at NASA and Google at the Silicon Valley technology incubator Singularity University in their annual Global Startup Program (GSP) where he worked on building adaptive virtual reality environments triggered by heart rate variability. 
Following his work at Singularity, Marshall combined his passions for Public Health and action sports with the founding of Vestigo. With clients like CNN, Home Depot, and EY, Vestigo utilizes the mental performance-enhancing power of adventure sports to create real and virtual-reality-based experiences that train teams to embrace adaptability, foster a mindset of innovation, and overcome our biological desire for stability and comfort.
To live by this mindset in his personal life, Marshall is an avid multisport adventure athlete constantly seeking to challenge his own limits as a Class V Whitewater paddler, paraglider pilot, Jet Suit pilot, Ultralight pilot, mountain biker, snowboarder, kiteboarder, scuba diver, vertical caver, and climber.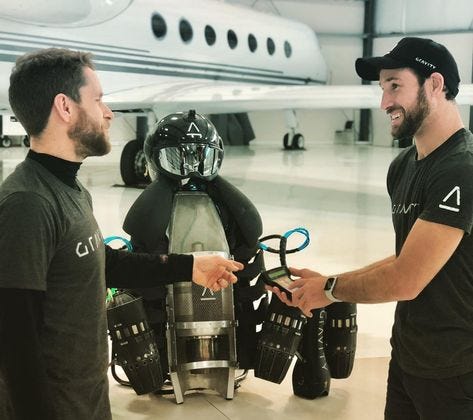 Currently, Marshall is training to set a world record with the tallest solo Summit to Sea expedition ever completed, a completely human-powered journey from the top of Mt Everest to the Indian Ocean via mountaineering, paragliding, and whitewater kayaking.
To learn more about how Marshall promotes a mindset of peak performance and innovation via action/adventure sports, you can listen to his podcast, Inside the Adventure, ranked Top 3 in Adventure and Travel and you can follow him via Instagram at @marshallmosher to see his latest adventures and updates.
Click above to watch our interview, and visit vestigo.co to learn more.
-Jared
---
Jared Kleinert is the founder of Meeting of the Minds (motm.co), as well as a TED speaker, 2x award-winning author, and USA Today's "Most Connected Millennial".
Meeting of the Minds curates "super-connectors" and subject matter experts as invite-only attendees to 3 day summits in places like Napa Valley, Bermuda, and elsewhere, as well as "deep dives" such as this Marketing and Biz Dev strategy & implementation workshop. Members of the MOTM network include CEOs of 7, 8, and 9-figure businesses, creators of globally-recognized brands and social movements, New York Times bestselling authors, founders of pre-IPO tech unicorns, c-suite execs from Fortune 500 companies, and others.
Jared's career began at 15 years old when he started his first company, and took off at 16 while working as the first intern, and then one of the first 10 employees, for an enterprise SaaS company called 15Five, which today has raised over $40M and has almost 2000 forward-thinking companies as monthly recurring clients.
Later, Jared would become a delegate to President Obama's 2013 Global Entrepreneurship Summit in Malaysia, write multiple books including the "#1 Entrepreneurship Book of 2015", and speak at TED@IBM the day before he turned 20. 
As a highly-sought after keynote speaker and consultant, Jared's clients range from organizations like Facebook, Samsung, Bacardi, Estee Lauder, IBM, Cornell, Berkeley, AdAge, and the National Speakers Association. His insights on entrepreneurship, networking, marketing, and business development have been featured in Forbes, TIME, Harvard Business Review, Fortune, NPR, Entrepreneur, Mashable, Fox Business and more.
Don't forget to subscribe to our Substack!