Best Practices From A "Super-Connector" For Making Successful Email Intros Between People In Your Network
This 5-Step Process with Ensure That People Respond, Take Action, and *Actually* Help One Another With Each New Connection
One of the most valuable things you can offer someone in your network is an intentional, well-timed, and brief-yet-descriptive introduction.
Of course, this can happen naturally at an event, but these days most connections are taking place digitally, and you'll be using email to make introductions on behalf of friends, clients, and other valued members of your community.
Recently, I've received some well-meaning but poorly executed introductions which have led to mediocre conversations or, worse, no reply at all from the other person being introduced to me (even after multiple follow-ups!).
Therefore, I wanted to share a high-level overview of how to successfully make email intros so that you can WOW your network without ever wasting your time or leaving other people in awkward situations.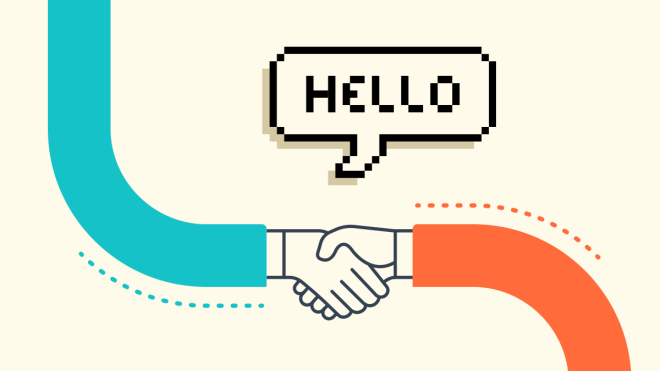 1) Determine WHY You Are Making The Introduction
Sometimes, I'm looking to connect one of our clients with a subject matter expert from the Meeting of the Minds alumni network. Other times, I'm helping a friend who is looking for a job opportunity or mentorship.
Understanding the needs, urgency, and resources of the person in your network looking for an introduction to someone else will help you find the second person in your rolodex with which to connect the first.
In these instances, it's important to consider the type of person you're looking to connect them to so that, if your first effort is unsuccessful, you have a second, third, or fourth option that would still meet the needs of your friend or client.
EXAMPLE - If you ask me for an introduction to a senior executive at a Fortune 500 company who might be able to provide feedback on your consulting services, I'll think of a few options that may be suitable. Then, I'll contact my first option (see "Create 'Double Opt-In'), and move to the second option if the first is unavailable or uninterested.
Then again, perhaps you come across two people in your network that simply HAVE to know each other…
Since you are not being asked to make an introduction, it's especially important to provide context to the two members of your network and get permission before introducing them.
Otherwise, you're simply meeting the needs of your ego (i.e. do they REALLY need to connect, or are you simply trying to play the role of connector) instead of offering tangible value to members of your network.
2) Create "Double Opt-In"
Trouble arises when you have one person who wants an introduction from you, and then you identify another person to connect them to, but don't ask for permission before making the email intro.
In these cases, contact the second person individually, provide context for the potential introduction, and ask for permission before making the connection.
EXAMPLE - before I connect you to the senior executive(s) I know at Fortune 500 companies, I will call, text, or email the individual(s), let them know about you and your consulting services, and ask if they'd be willing to speak with you and provide feedback before making the email introduction.
This is not only polite, but it ensures a speedy introduction once the Double Opt-In has been given.
Sometimes, you may run into folks that would LOVE to meet new people in your network, but are on vacation or bogged down with so many emails and tasks that it would be challenging for them to offer respectful response times to someone else you'd like to introduce them to if you were to make an email intro.
Personally, I'd rather make less introductions, but have each one be successful than have only 50% of my email intros lead to meaningful conversations, partnerships, and more between members of my network.
Not to mention, being on the receiving end of an email introduction you did not ask for, and do not want, is VERY awkward.
You do not want to put anyone in this position, especially people who would be most offended by your lack of double opt-in introductions (who are typically the most influential individuals in your network!).
3) Connect The Two Parties Via Email With A Short, Yet Descriptive Message
Your short email introduction should include:
a descriptive subject line,

1-2 sentences about each person,

1-2 sentences about the context for your connection,

a clear "call to action", usually geared towards the person who asked for the intro.

PRO TIP: consider making a quick video using Loom and embed it into your email intro! My friends and clients absolutely LOVE when I do this…
EXAMPLE -

Subject | INTRO: Todd (Random Consulting Company Inc.) <> Samantha (Some Fortune 500 Company)

Hi Samantha,

I'd like to introduce you to Todd, the founder of Random Consulting Company Inc. He's also a former consultant at Another Cool Company, and author of This Book Probably Has A Helpful Insight or Two.

EXAMPLE: email intro with Loom — Watch Video

Todd, as I mentioned when we spoke on the phone, Samantha is the Fancy Senior Executive Title at Some Fortune 500 Company. She also sits on the board of An Amazing Nonprofit.

Todd has asked me if I knew a senior executive at a Fortune 500 company who might be willing to provide feedback on his consulting services, and so I thought Samantha would be a great help. I also know Samantha wants to write a book someday soon, and so Todd may have some ideas for her as well.

Samantha, can you please provide Todd with a few times that'd work for your schedule so the two of you can connect via Zoom?

Happy connecting!

Jared
I even make a super awkward video on Loom and embedded it into the example above so you can see how cool the GIF will look in your email, and how personalized this makes your email intros. Sorry for the messy office!!!
(And can you spot my face mask?) #MaskUp
4) Follow-Up
For me, this is the most fun aspect of connecting people in my network.
I'd recommend following up a week after any email intro to see how the connection went and what good came from the conversation(s).
Most of the time, you'll hear that the two people have spoken via Zoom and planned a second connection point, and/or that the conversation went well and value was exchanged in some capacity.
Other times, perhaps someone missed the initial email and you can ensure they respond to the other person, especially since you received their commitment to the connection in advance via Double Opt-In.
I love checking in months after the initial connection as well to see if a new friendship has formed, if the two people have worked together, and/or other takeaways from the introduction.
Seeing that people have met their significant others, business partners, clients, and more through my intros, there's always the potential for surprise and delight!
5) Take Inventory Of Your Network
Over time, I may admittedly choose to skip the Double Opt-Ins with members of my network with whom I have lots of trust.
If you've built a reputation for making great introductions, and someone has given you permission to proceed on multiple Double Opt-In email connections, then perhaps you don't need to clear future introductions with them in advance.
If someone consistently drops the ball on communications with one of my friends or clients, and/or they are always rescheduling meetings, don't ever follow-up on their commitments, or disrespect someone in my network for whatever reason, then I will not provide introductions for them in the future.
I will also politely "pass" on introductions offered to me if someone has previously connected me to other folks in their network without Double Opt-Ins, and if those half-baked connections have led to lackluster conversations.
Time is valuable. Don't waste yours or anyone else's!
---
QUESTIONS: What are your pet peeves when it comes to email intros?
What have been some of the BEST introductions you've received in the past?
And what type of people would you like me to connect you with in the future? :)
Stay safe and thank you.
-Jared
---
Jared Kleinert is the founder of Meeting of the Minds (motm.co), as well as a TED speaker, 2x award-winning author, and USA Today's "Most Connected Millennial".
Meeting of the Minds curates "super-connectors" and subject matter experts as invite-only attendees to 3 day summits in places like Napa Valley, Bermuda, and elsewhere, as well as "deep dives" such as this Marketing and Biz Dev strategy & implementation workshop. Members of the MOTM network include CEOs of 7, 8, and 9-figure businesses, creators of globally-recognized brands and social movements, New York Times bestselling authors, founders of pre-IPO tech unicorns, c-suite execs from Fortune 500 companies, and others.
Jared's career began at 15 years old when he started his first company, and took off at 16 while working as the first intern, and then one of the first 10 employees, for an enterprise SaaS company called 15Five, which today has raised over $40M and has almost 2000 forward-thinking companies as monthly recurring clients.
Later, Jared would become a delegate to President Obama's 2013 Global Entrepreneurship Summit in Malaysia, write multiple books including the "#1 Entrepreneurship Book of 2015", and speak at TED@IBM the day before he turned 20. 
As a highly-sought after keynote speaker and consultant, Jared's clients range from organizations like Facebook, Samsung, Bacardi, Estee Lauder, IBM, Cornell, Berkeley, AdAge, and the National Speakers Association. His insights on entrepreneurship, networking, marketing, and business development have been featured in Forbes, TIME, Harvard Business Review, Fortune, NPR, Entrepreneur, Mashable, Fox Business and more.
Don't forget to share! :)