Meeting of the Minds | Bermuda | Feb 26-28, 2021 (Our First In-Person Summit In A Year!)
Tickets for qualified applicants are 50% off until Oct 31.
After an INSANE year (2020 is #undefeated), we are safely resuming in-person summits February 26-28, 2021 by heading to Bermuda!
The dates are Feb 26-28, 2021 and if you register before the end of this week, the cost is only $1500 compared to our usual $3,000 fee to attend an in-person summit.
If you are not familiar with Meeting of the Minds, the "elevator pitch" is that…
If you're an entrepreneur running a reputable and profitable business, we've curated an intentional community whereby visionaries such as yourself can forge deep, meaningful connections with other diverse "super-connectors" and subject matter experts.
Since our first summit in January 2018, we've hosted well over 100 CEOs of companies generating 7, 8, and 9-figures per year, creators of globally-recognized brands and social movements, New York Times bestselling authors, founders of pre-IPO tech unicorns, former Fortune 500 c-suite execs, and others.
We are building what I believe will be the next PayPal Mafia (and certainly a much more diverse one!), where the "Minds" unite to solve society's most pressing problems and enjoy individual success in the process.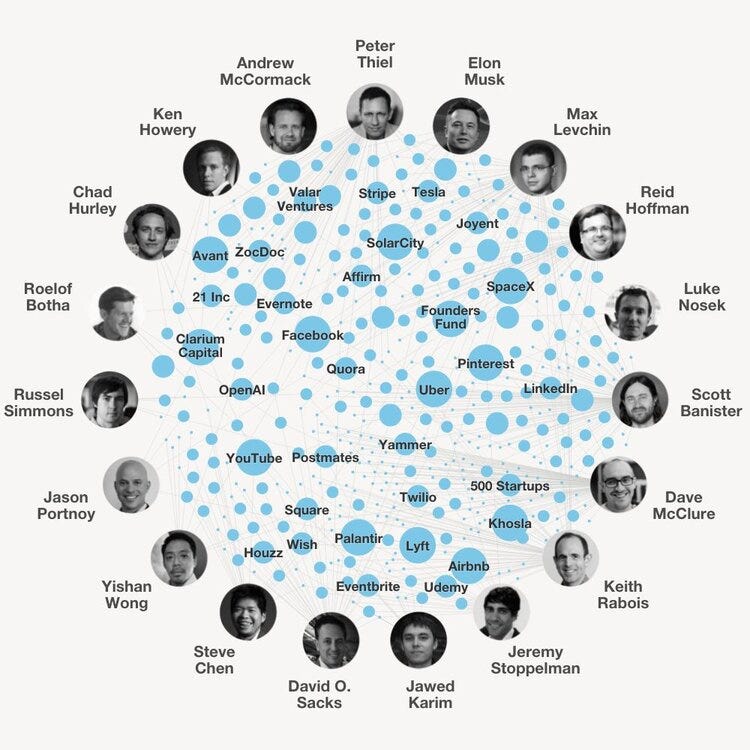 Would you like to join us at an upcoming Meeting of the Minds and experience these curated connections, facilitated follow-ups, and breakthroughs for yourself?
If you'd like to learn more, here are a few places to start…
Testimonials: we have dozens of video and text testimonials on our website (motm.co) from previous summit attendees and annual members.

Member profiles: also on our website, you'll see the type of people we attract to our summits. Our sphere of influence includes individuals who have collectively started companies worth billions of dollars, positively influence hundreds of millions of people through their work, and WANT to see you succeed.

What happens at our summits, who should apply, and info regarding Bermuda's strict testing and travel protocols that will keep us all safe: click HERE.
If you'd like to join us, simply email me and I can hop on Zoom with you (so you don't have to fill out our application) to determine if this is a good fit. We can also discuss how you can 3x-10x your ROI on the discounted ticket price.
If you are interested, but are not available Feb 26-28, 2021 then let me know as well. We will likely host our Q2 2021 and perhaps even our Q3 2021 summits in Bermuda as well until the United States is safe enough to host in-person experiences.
While other groups may be more ambitious in their "back-to-normal" plans, the ONLY reason I feel comfortable resuming our in-person summits is because of how safe Bermuda is, and how detailed their testing and travel protocols are to mitigate any risk of community spread or spikes in case counts. We care about you and our other clients, and have a direct line to the Bermudian government as needed to make sure travel plans are managed carefully and in the group's best interests health-wise.
SO! ARE YOU SICK OF ZOOM MEETINGS AND WANNA COME HANG OUT WITH US AGAIN IN-PERSON?!?!
If so, this will be a truly unforgettable summit…
Given that we've previously we've enjoyed rum tastings with local institutions like Goslings, explored the Crystal Caves (thought to be millions of years old and visited by Mark Twain in 1908), relaxed at private beach clubs, boarded evening charters on catamarans like the UberVida and Zara, and more…
This is going to be out-of-this-world memorable, if only because we will NEVER take in-person events and human connection for granted.
Reply to get in touch with any questions, review our website, and let me know by end of week (at latest) if you'd like to join us and take advantage of our outrageously generous discount!
Thanks,
-Jared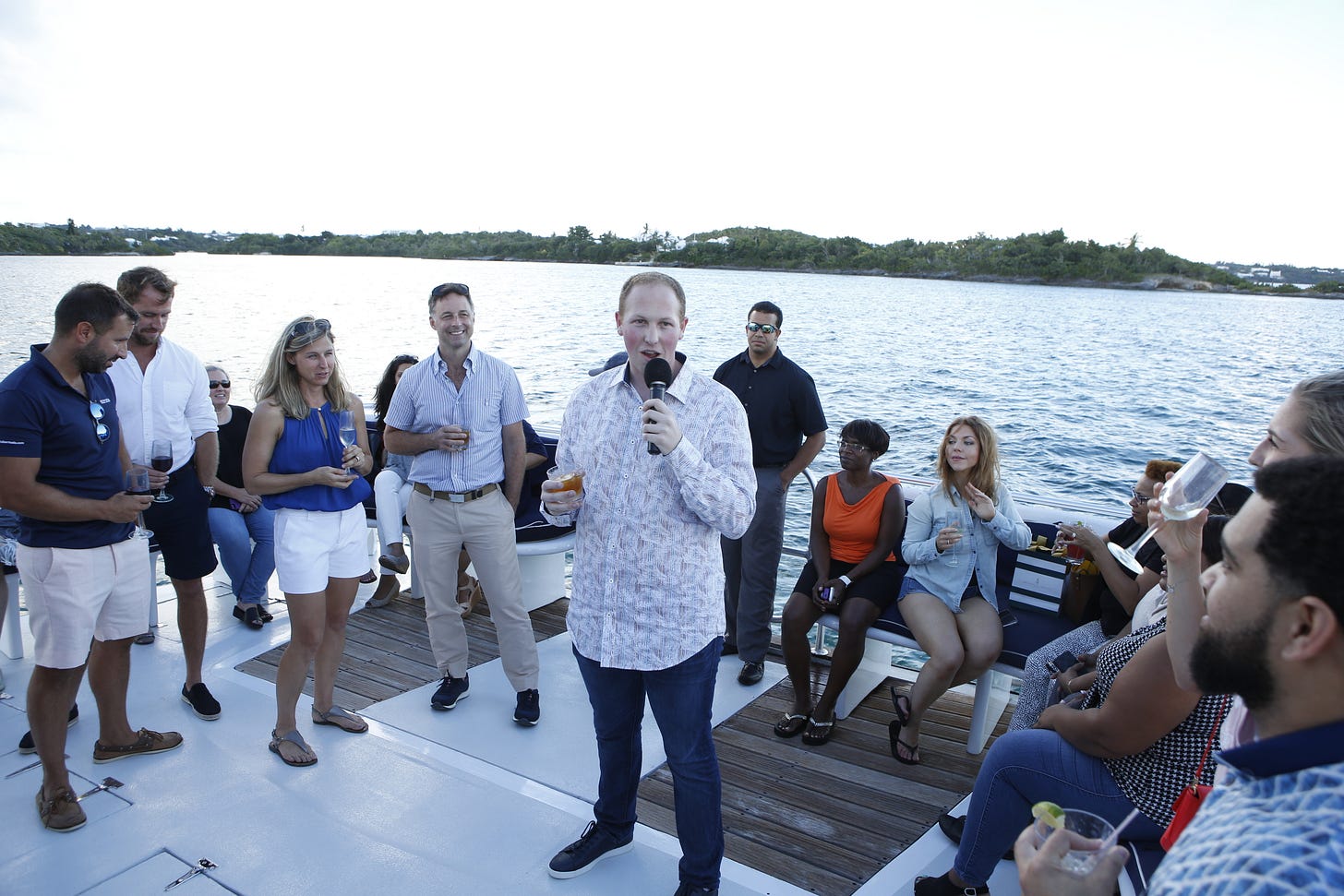 ---
Jared Kleinert is the founder of Meeting of the Minds (motm.co), as well as a TED speaker, 2x award-winning author, and USA Today's "Most Connected Millennial".
Meeting of the Minds curates "super-connectors" and subject matter experts as invite-only attendees to 3 day summits in places like Napa Valley, Bermuda, and elsewhere, as well as "deep dives" such as this Marketing and Biz Dev strategy & implementation workshop. Members of the MOTM network include CEOs of 7, 8, and 9-figure businesses, creators of globally-recognized brands and social movements, New York Times bestselling authors, founders of pre-IPO tech unicorns, c-suite execs from Fortune 500 companies, and others.
Jared's career began at 15 years old when he started his first company, and took off at 16 while working as the first intern, and then one of the first 10 employees, for an enterprise SaaS company called 15Five, which today has raised over $40M and has almost 2000 forward-thinking companies as monthly recurring clients.
Later, Jared would become a delegate to President Obama's 2013 Global Entrepreneurship Summit in Malaysia, write multiple books including the "#1 Entrepreneurship Book of 2015", and speak at TED@IBM the day before he turned 20.
As a highly-sought after keynote speaker and consultant, Jared's clients range from organizations like Facebook, Samsung, Bacardi, Estee Lauder, IBM, Cornell, Berkeley, AdAge, and the National Speakers Association. His insights on entrepreneurship, networking, marketing, and business development have been featured in Forbes, TIME, Harvard Business Review, Fortune, NPR, Entrepreneur, Mashable, Fox Business and more.
Don't forget to share! :)