Are You Happy? What About Your Workforce? Important Questions To Consider With TEDx Speaker Chris Butsch
Chris Butsch helps organizations engage talent using positive psychology. He's a keynote and TEDx speaker as well as the bestselling author of two books.
Everyone wants a sustainable, engaged workforce…
But traditional engagement solutions are failing. It's no surprise that corporate cultures are souring with mass layoffs, a turbulent economy, and divineness politically and socially that is naturally brought into the workplace.
What about in your small business? How can you best engage your team and contractors, even if you only have 1, 2, or 10 people working with you, so that you can achieve peak performance and sustain an empowering culture?
Let's find out from TEDx speaker, 2x bestselling author, and overall "Mr. Nice Guy" Chris Butsch! Click the video above to tune into our conversation. 🤓
Chris Butsch helps organizations engage talent using positive psychology.
He's a keynote and TEDx speaker, and his most recent book Win: Future-Proofing Your Workforce in the Age of Disengagement covers pitfalls to avoid as well as cost-effective implementations of three proven engagement solutions for your workforce. 
His TEDx talk How to Take Better Care of Your Brain Using MESH was inspired by his globetrotting adventure to conquer his depression and understand how to achieve happiness in the 21st century.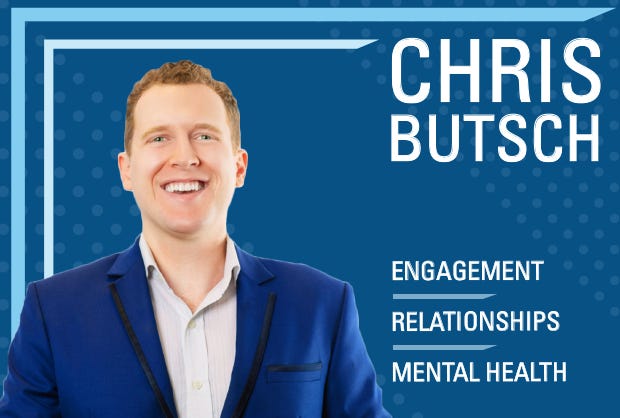 ---
Jared Kleinert is the founder of Meeting of the Minds (motm.co), as well as a TED speaker, 2x award-winning author, and USA Today's "Most Connected Millennial".
Meeting of the Minds curates "super-connectors" and subject matter experts as invite-only attendees to 3 day summits in places like Napa Valley, Bermuda, and elsewhere, as well as "deep dives" such as this Marketing and Biz Dev strategy & implementation workshop. Members of the MOTM network include CEOs of 7, 8, and 9-figure businesses, creators of globally-recognized brands and social movements, New York Times bestselling authors, founders of pre-IPO tech unicorns, c-suite execs from Fortune 500 companies, and others.
Jared's career began at 15 years old when he started his first company, and took off at 16 while working as the first intern, and then one of the first 10 employees, for an enterprise SaaS company called 15Five, which today has raised over $40M and has almost 2000 forward-thinking companies as monthly recurring clients.
Later, Jared would become a delegate to President Obama's 2013 Global Entrepreneurship Summit in Malaysia, write multiple books including the "#1 Entrepreneurship Book of 2015", and speak at TED@IBM the day before he turned 20. 
As a highly-sought after keynote speaker and consultant, Jared's clients range from organizations like Facebook, Samsung, Bacardi, Estee Lauder, IBM, Cornell, Berkeley, AdAge, and the National Speakers Association. His insights on entrepreneurship, networking, marketing, and business development have been featured in Forbes, TIME, Harvard Business Review, Fortune, NPR, Entrepreneur, Mashable, Fox Business and more.
Don't forget to subscribe to our Substack!